Distribution Challenges in CES Spotlight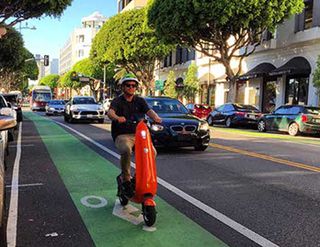 Cable operators' reduced participation at 2018 CES next week (Jan. 9-12) reflects the changing roles of cable TV in the evolving video distribution business.

The occasionally-collaborative but often combative relationship between cable operators and hardware makers (remember the CableCard negotiations?) faces new challenges in the emerging competitive streaming media ecosystems.

And streaming technology -- including upcoming 5G wireless broadband delivery -- will be pervasive at CES (the event once known as the International Consumer Electronics Show).

(In the spirit of full disclosure: I am a contractor to CTA, managing a couple of on-site CES activities this year.)

Beyond the glut of devices will be extensive chatter (including comments by FCC chair Ajit Pai) about the NextGen ATSC 3.0 TV standard plus other policy discussions about spectrum contention.

Both CableLabs and CTAM, which ran sizable CES show floor tours until a couple years ago, are sending executives there to create podcasts and streaming video coverage to update their members about the sizzle at the technology extravaganza in the Las Vegas desert. But no longer do the groups organize roving bands of cable marketers and technicians to roam the CES exhibit halls.

Television itself -- long a centerpiece of CES -- has become a relatively minor product, although the show's "C Space" content/advertising program reflects the importance of programming to the show's producer, CTA (Consumer Technology Association), which two years ago changed its own middle name from Electronics to Technology. TV sets themselves will continue to be flat and big with higher-and-higher resolution, although the number of set-makers continues to decline.

Stay in the know — subscribe to the freeMultichannel NewseNewsletter.

Comcast has a sizeable presence in CES's "Smart Home" exhibit area, but gone are the days when the cable behemoth's top executives joyously consummated hardware deals in Vegas. Just 12 years ago, Comcast CEO Brian Roberts and then chief strategist Mark Coblitz beamed happily in Panasonic's CES booth after unveiling a plan to buy 500,000 set-top boxes. (Ultimately only a fraction of that "order" was ever delivered, and most of those sat on warehouse shelves, but it certainly was a solid negotiating tactic.)

As for next week's event, CableLabs CEO Phil McKinney, who will attend the show, expects three major topics to dominate CES: "Artificial Intelligence Everywhere," immersive storytelling (via virtual reality and augmented reality) and connected cars.

"AI and machine learning will be introduced to shift how we consume content," McKinney told me. "Imagine something like a 'Choose Your Own Adventure' film that changes the narrative based on your viewing experience," he said - echoing decades-old promises of viewer-controlled interactive TV. He also cited AI-enabled security tools.

"You won't be able to hide from AI at CES this year," he added "Everyone will be saying they have 'AI' or 'machine learning,' but few will be using the true technology. Those will be the ones to watch," McKinney said, although he did not identify which exhibitors may have the real thing.

As for smart and autonomous vehicles, "We've seen them at CES for many years now," McKinney said, pointing to his own video assessment of connected cars at CES 2010, when he worked at Hewlett-Packard.

Xogo and DeviceBits -- two of the start-ups involved in CableLabs UpRamp accelerator program -- will participate in the on-site podcast that McKinney will create from CES.

Read More: Complete coverage of #CES2018

The CTAM delegation to CES will primarily consist of Angie Britt, senior VP of advanced products, who will create a real-time CTAM Live! From CES program. Britt and CTAM senior technical consultant (and Multichannel News contributor) Leslie Ellis will select pertinent exhibits and business executives for real-time "snapshot" interviews and tech demos. They'll produce a 10- to 15-minute video interview program from Las Vegas and live tweet/live-post highlights to CTAM's Facebook page and other social media outlets during the first two days of the show. Significantly, they plan to move beyond the traditional video and Internet territories at the sprawling convention, including the program-centric C Space at the Aria Hotel venue, a couple of miles from the main CES exhibit halls.

ATSC 3.0, Net Neutrality and Regulations From the D.C. Delegation
When Pai joins CTA president Gary Shapiro for a 30-minute on-stage discussion on Tuesday (Jan. 9) at 11:30 a.m., will the discussion focus on the emerging ATSC 3.0 TV standard (of high importance to TV equipment makers) or net neutrality? Pai will likely evangelize on both topics -- plus some other issues, including a possible continuation of his recent rants again social media.

This will not be a platform for new revelations on any topics, but CES gives Pai a bully (and friendly) pulpit from which to explain his stances. The plans by TV makers for NextGen (3.0) television may be of greater interest to some in the audience, although the impact of Pai's "Restoring Internet Freedom" policy also will weigh heavily on many minds. Separately, the Federal Trade Commission's acting chair, Maureen K. Ohlhausen, will take the same stage to explain the agency's role in enforcing the new non-net neutrality policy.

Later on Tuesday more federal policymakers will delve into spectrum, infrastructure, 5G, privacy and the Internet of Things at a roundtable discussion that includes FCC commissioners Brendan Carr, Mignon Clyburn and Michael O'Rielly, the FTC's Terrell McSweeny, and David J. Redl, Assistant Secretary of Commerce and head of the National Telecommunications and Information Administration.

Technologies that are high on the cable industry's agenda will be visible throughout CES. For example, you'll hear a lot about voice controls -- in the first year when Amazon and Google have large booths, largely to show off their smart-home technologies such as Alexa/Echo and Google Home artificial intelligent devices. Meanwhile, Universal Electronics, which has shipped nearly 40 million voice control remote controls this year, largely to U.S. multichannel video program distributors, will unveil its new smart home device, "the Torre Hub." It is a bundled, "low-cost package, aimed at reducing fire and flood insurance claims."

CES, which is likely to match last year's attendance of about 184,000 people, also reflects the technology industry's diversion into everything from health/wellness/fitness products to smart cities. All of those categories offer opportunities for cable communications providers to develop services.

And of course, there are countless chances to be distracted by new uses for old ideas and defunct names. For example, look for the "OjO Commuter Scooter" (pictured) at the Ford booth. Ojo was also the name of a videophone for a face-to-face, web-based video calling system, unveiled in 2004, the last gasp from the legendary Hal Krisbergh's WorldGate Communications. WorldGate had started as an interactive TV provider, but eventually moved on to its Ojo device, which was heavily promoted to the cable industry before WorldGate filed for bankruptcy in 2012.

The Ford-licensed OjO Commuter Scooter, built by Oxnard Electric, is a 65-pound bike-scooter hybrid that the company said complies with the rules and guidelines of the electric bicycle market.

Don't get your OjO mixed up with your Ojo.
Contributor Gary Arlen is known for his insights into the convergence of media, telecom, content and technology. Gary was founder/editor/publisher of Interactivity Report, TeleServices Report and other influential newsletters; he was the longtime "curmudgeon" columnist for Multichannel News as well as a regular contributor to AdMap, Washington Technology and Telecommunications Reports. He writes regularly about trends and media/marketing for the Consumer Technology Association's i3 magazine plus several blogs. Gary has taught media-focused courses on the adjunct faculties at George Mason University and American University and has guest-lectured at MIT, Harvard, UCLA, University of Southern California and Northwestern University and at countless media, marketing and technology industry events. As President of Arlen Communications LLC, he has provided analyses about the development of applications and services for entertainment, marketing and e-commerce.
The smarter way to stay on top of the multichannel video marketplace. Sign up below.
Thank you for signing up to Multichannel News. You will receive a verification email shortly.
There was a problem. Please refresh the page and try again.