Digital Divide Persists, Largely Due to Price, NTIA Finds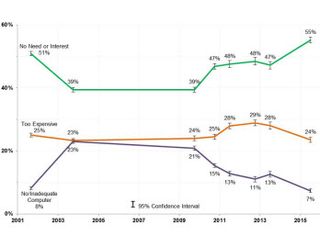 "Overcoming the perception that home Internet access lacks relevance in households that have never used it could ... prove to be a ... difficult challenge," according to a new analysis of "digitally unconnected" U.S. homes. 
Diving deeper into its 2015 "Computer and Internet Use Supplement," the National Telecommunications and Information Administration (NTIA) has found that the number of Americans, especially among poor and non-Asian minorities, who don't see any value in Internet access has grown slightly in the past 15 years. The price of Internet access remains the primary reason for not using broadband, cited by 24% of respondents in 2015, somewhat lower than earlier this decade, but at about the same level as in 2001 (see graph, pictured).
The new NTIA evaluation focuses on the digital divide, citing the Obama Administration's  goal, announced six months ago, to connect 20 million more Americans to broadband by 2020.
Maureen Lewis, director-Minority Telecommunications Development at NTIA's Office of Policy Analysis and Development, pointed out that among the 33 million U.S. homes (27% of all households) that are not broadband-connected, the most prevalent factors are race, disabilities, and low income and low education levels. But she also observed that the growing lack of interest or need for home Internet service "even among higher educated, higher income, and white households that traditionally have exhibited the greatest home Internet use."  She said that this factor "bears further study."
"Eliminating or reducing cost concerns may offer an opportunity to narrow the digital divide by recapturing households that formerly used the Internet at home," Lewis said.
Overall, about 55% of unconnected homes cited "no need or interest" as their primary reason for eschewing connectivity. The new evaluation breaks that down to a 60/40 split  of "don't need" versus  "not interested."
"These more detailed reasons for not using the Internet at home may facilitate development of policies and programs that address the specific concerns of these non-using households," Lewis said. "For example, households that stated a lack of interest in the service may require a different approach that focuses on ways the Internet can benefit them than households that stated they did not need home Internet access."
The issue may pose a larger problem as Internet of Things and other universal services become available if some homes continue to decline to be hooked into the network.
According to Lewis, the new "granular" evaluation of the survey data uncovered  more reasons why some households don't use the Internet at home also shed light on the differences between households with members who formerly used the Internet at home and those who had never previously done so.
"Households with prior home Internet use appeared to be more price sensitive than households without any previous home Internet use," she explained in an NTIA blog. "Thirty-one percent of non-adopting households that once had home Internet responded that they could not afford the service, while only 20% of never-adopting households gave the same main reason for non-use."
Of the 24 % of households that said they didn't use the Internet at home because of cost concerns, "an overwhelming 92% explained they could not afford it, compared to a mere 8% that responded the service was not worth the cost," Lewis wrote.
"This suggests that cost is still a barrier for a meaningful percentage of non-adopting households," she added.
"Eliminating or reducing cost concerns may offer an opportunity to narrow the digital divide by recapturing households that formerly used the Internet at home," Lewis concluded.
The smarter way to stay on top of the multichannel video marketplace. Sign up below.
Thank you for signing up to Multichannel News. You will receive a verification email shortly.
There was a problem. Please refresh the page and try again.