Digital Delivery Rearranges Retail Reality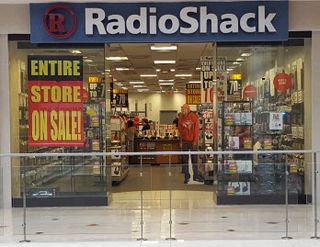 When you rearrange the letters of "reality" (as in "virtual" or "augmented"), you get "retail" with a leftover "y."

As in "why."

Several reports last week underscored the shifting realities in the retail business, while a separate influx of developments slammed home the imminence of altered video reality, whether you like it or not. And, yes, the two categories are connected.

As in "interconnected."

Best Buy, the electronics retail behemoth, surprised Wall Street last week by reporting a small increase in quarterly revenue -- thanks almost entirely to a sizeable 23% year-over-year climb in online sales (about $1 billion in the first quarter), which offset in-store sales declines. Analysts quickly noted that Best Buy's unexpected jump came amid devastating consumer electronics (CE) fates at other retailers, notably h.h. gregg and RadioShack (forgotten but not yet gone), both of which have filed for bankruptcy. (Pictured: Radio Shack storefront in Bethesda, Md., on May 14; photo by Gary Arlen)

At the same time, TWICE magazine, in its annual Top 100 Retailers issue, concluded that "Most A/V-based dealers are still reeling from the commoditization of TV." Indeed, the only big winner among the magazine's Top 10 was Amazon, which showed a year-over-year consumer electronics sales increase of 25.4%, retaining its No. 2 position behind Best Buy, which had an overall 0.8% CE sales increase. Other large national retailers in the category included Walmart (down 5%), Apple stores (-3.6%) and Target (-6.5%). TWICE, an MCN cousin publication, covers the consumer electronics retail business.

Those retail trends are reminders of the connections that are reshaping the entertainment/technology landscape.

Separately, Digital Entertainment Group revealed its latest analysis early this month, showing that U.S. subscription video-on-demand revenue has exceeded DVD sales and rentals for the first time. DEG expects that SVOD and other digital delivery systems will soon constitute the largest share of the home entertainment budget. The study found a steep decline in the purchase and rental of entertainment content from 2015 to 2017 (purchases from 44% to 37% and rentals from 30% to 24%) while SVOD has boomed from 26% to 38% in the past two years.

Collectively these developments confirm several realities: Tangible media and brick-mortar stores are fading as digital delivery (including online merchandising) ascend. That's been a 15-year trend, and it rearranges the digital entertainment playing field in a way that offers challenges and opportunities to broadband companies -- especially ones that are looking toward the next realities.

For example: the imminence of VR and AR as part of the evolving video ecosystem.

At the Google i/o developers conference this month, Google offered more details about how it will bring augmented reality capabilities to browsers, especially on mobile devices. Observers quickly tied those features to retailing, such as allowing a person shopping for furniture to use the mobile app to scan a room digitally (with the device's camera) to determine the proper size before placing an online order via Amazon.

As in "Amazon, the go-to preference for all kinds of products" -- not just digital content.

Factor this creeping entry of VR and AR into the entertainment arena, and it's easy to perceive the overhaul taking shape in retail reality -- and the looming competition from digital-first providers such as Google and Amazon as they open yet another front in the pocket-book/attention economy. Major retailers -- which at various times had been considered "coopitition" for broadband carriers -- now have their primary relationships with wireless broadband providers. They (and their virtual storefronts) sell mobile devices and services, including the tools that enable VR and AR.

Moreover, as live TV streaming, a core feature of some competitive skinny bundles, becomes a larger factor in the mobile (and wired) online ecosystem, retailers also have opportunities to insert themselves into that business, and not just smart TVs and digital receivers, but all kinds of viewing devices. It's a way of making up for the lost business in sales of DVDs and other physical media, which they have been abandoning for several years anyway.

Collectively, the retail and video viewing migration plus the rapid VR/AR developments are reminders of the rearranged ecosystem in which carriers will operate. The reality is that viewers will still have to buy their hardware somewhere, but it may not be from retailers as we knew them.

Hence, everyone is trying to figure out how the new augmented and virtual realities play into this altered verisimilitude.
The smarter way to stay on top of the multichannel video marketplace. Sign up below.
Contributor Gary Arlen is known for his insights into the convergence of media, telecom, content and technology. Gary was founder/editor/publisher of Interactivity Report, TeleServices Report and other influential newsletters; he was the longtime "curmudgeon" columnist for Multichannel News as well as a regular contributor to AdMap, Washington Technology and Telecommunications Reports. He writes regularly about trends and media/marketing for the Consumer Technology Association's i3 magazine plus several blogs. Gary has taught media-focused courses on the adjunct faculties at George Mason University and American University and has guest-lectured at MIT, Harvard, UCLA, University of Southern California and Northwestern University and at countless media, marketing and technology industry events. As President of Arlen Communications LLC, he has provided analyses about the development of applications and services for entertainment, marketing and e-commerce.