Digital Catching Up to Cable in Local Ad Sales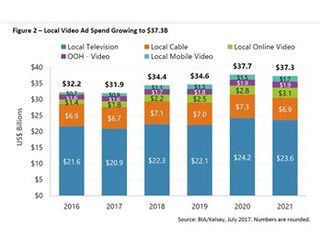 Almost half of the growth in local video ad spending during the next five years will go to digital platforms, including local mobile video, local online video and out-of-home video, according to a new study on advanced television advertising published last week by BIA/Kelsey industry analysts.

The growth in digital platform advertising approximately matches the expected growth in local cable TV advertising during the period, the report, "Advanced TV: Industry Views on Progress & New Directions," concluded.

BIA/Kelsey's local ad forecast, compiled during July research, envisions $7.1 billion growth in local cable ad spending next year compared with $5 billion for local online, mobile and out-of-home video spending. In 2021, local cable ad growth will amount to $6.9 billion, while the combined local digital platforms will tally $6.7 billion.

The report -- the fifth in the company's series analyzing local digital video advertising platforms -- predicts that by 2021, local digital "ad activation" will represent 43.6% of local ad spending versus 56.4% for "traditional" video media. That's a significant jump from today's 33.2%/66.8% split.

In dollar terms, the study predicts that all local linear TV and digital video combined platforms will grow from $31.9 billion in 2017 to $37.3 billion by 2021. The broadcast TV segment will grow $2.7 billion and the cable/MVPD segment will grow by $200 million (see chart).

"We are seeing very interesting innovation in cross-platform solutions, audience targeting, local data management platforms and a drive toward more accountability in media campaigns," according to the BIA/K analysis. "These innovations may bend current trend lines in the media mix if linear video can become competitive."

BIA/K's report focuses on the increased use of data-enhanced audience targeting via addressable, contextual audience networks, over-the-top, connected TV and programmatic TV platforms, all of which the company said "continue to innovate, and bring change in the national and local TV markets through technology, data, and new forms of automation and efficiency."

The report includes extended interviews with six media and technology executives, including Steve Silvestri, vice president of advanced advertising at Discovery Communications; he oversees the 18-month-old Discovery Engage platform that leverages custom and syndicated data segments for the company's networks.

"The [Engage] platform has consistently showcased its ability to mine high value programs across the Discovery portfolio that may have been previously unconsidered, but now afforded through selling title optimization," Silvestri explained. "Most of our advertisers are purchasing audiences deeper across our portfolio and expanding their network consideration set."

He said that while a "traditional buy" might include four to six networks, an "Engage buy can run to eight or nine networks."

"Through test and control anonymized ad exposure analysis, Engage has proven out lift metrics using transactional data, foot traffic rates and brand surveys," Silvestri added.

The other organizations cited in the BIA/K report are AudienceXpress, Discovery, FreeWheel, Sinclair Broadcast Group, TiVo and Tremor Video.

"As marketers and agencies want more cross-platform campaign planning, activation and evaluation, these tech stacks and business processes must work better together," said Rick Ducey, managing director, BIA/Kelsey and a principal author of the report. "Capital investment, innovation and change is coming to the local TV marketplace," he added citing the perceived values of data-driven audience targeting and advanced TV solutions.

Ducey also pointed out that "advanced TV" has moved beyond its earlier focus on "interactive TV applications" and "addressably-delivered" ads, in which a commercial was delivered to a pre-designated, targeted household. He characterized advanced TV as now comprising "data-enhanced audience targeting via addressable, contextual audience networks, OTT, connected TV and programmatic TV platforms."

The BIA/K report cites "new forms of automation and efficiency" as the key components of Advanced TV, including include platforms, workflow and data.
Weekly digest of streaming and OTT industry news
Thank you for signing up to Multichannel News. You will receive a verification email shortly.
There was a problem. Please refresh the page and try again.