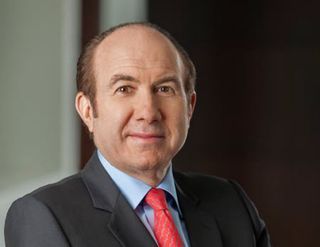 Viacom executive chairman and CEO Philippe Dauman, taking more than his fair share of criticism over the past several months, finally had enough, lashing out against what he called the naysayers and publicity seekers who doubt the company's future and his leadership on a conference call with analysts to discuss fiscal Q1 results.
"In conclusion, I want to address the speculation about Viacom and our future. Our outlook and the facts have been distorted and obscured by the naysayers, self-interested critics and publicity seekers," Dauman said on the call. "We will not be distracted or deterred as we build for the bright future ahead of us. As executive chairman and CEO I will continue to work tirelessly to secure that future and will leave no stone unturned, either tactically or strategically. Sumner and I have a more than thirty year history side-by-side building his media empire. He and the board of Viacom believing in my abilities and my character have entrusted me with weighty responsibilities. None of which are inconsistent or incompatible. My singular objective is to protect and build value for all of Viacom's shareholders and in doing so for all the beneficiaries of Sumner's trust who not only include the descendants of his daughter but also those of her brother. Finally, let me be absolutely clear, I could not be more focused on getting Viacom stock price back to the much higher level it enjoyed under my leadership just a short time ago. No one should doubt my resolve or the resolve of our entire management team to make that happen."
Viacom's stock was down 45% in 2015 and Dauman is right in that the shares have traded as high as nearly $90 each in 2014, well into his tenure. But in some respects that makes the decline of the stock in the past two years even harder to swallow – at $35.50 per share in afternoon trading Tuesday, Viacom stock is more than $50 per share (about 60%) below its $88.48 per share close on Feb. 14, 2014. While other stocks in the programming sector have taken big hits, none have been the size of Viacom's. In fairness, a lot of that could also be due to Viacom's target audience – almost exclusively kids, teens and young adults – who have a greater tendency to watch content on multiple platforms.
In the meantime, Dauman has faced harsh criticism as Viacom stock has faltered, its ratings and viewership have continued to erode and as questions concerning succession after founder Sumner Redstone dies continue to weigh on the company.
Redstone passed his executive chairman title to Dauman last week – he has done the same with CBS CEO Les Moonves for his other media holding, CBS– a move that was endorsed almost unanimously by Viacom's board of directors. The lone dissenter – board member, vice chair and Redstone's daughter Shari Redstone – had released a statement prior to his appointment that she hoped the board would select a chairman without ties to the family. When Dauman, a longtime friend and associate of Sumner Redstone (and his current healthcare agent) was selected, Shari said through a spokesperson that she would continue to advocate for the best interest of shareholders.
From the looks of Dauman's statements today, that won't be a one-sided fight.
The smarter way to stay on top of the multichannel video marketplace. Sign up below.