Viacom Shares Yawn on Chairman Shift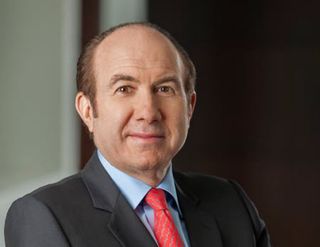 Viacom investors started off the day full of hope, driving the company's share price as high as $47.47 each (up 6.3%) in early trading, in anticipation of a shakeup in the wake of executive chairman Sumner Redstone's decision to relinquish that role at CBS. With a statement issued by board member and Redstone daughter Shari Redstone issued the night before stating that she would prefer a new company chairman had no ties to the family, optimism was high that new blood would be pumped into a company that seems to sorely need a transfusion.
And then came 11:00 a.m.
Viacom announced at 11:01 a.m. Thursday that CEO Philippe Dauman had been named to the additional role of executive chairman, squashing any hope that big changes were in store and sending the stock closer to its opening level. At 11:01 a.m., according to Yahoo Finance, Viacom shares dipped to $46.27 each and 45 minutes later they were at their nadir for the day, $44.32 per share. The stock rallied later in the day to close at $45.34, up 67 cents each or 1.5%.
Some analysts expected a big announcement – in a report before the market opened Thursday, UBS media analyst Doug Mitchelson, citing Shari Redstone's statement of the night before, wrote that it was highly unlikely that she would support Dauman, who is a trustee of the Redstone Trust and a close confidant of her father.
"In our view, Viacom is trading well below its fair value and we believe investors would look favorably on any outcome that would be a step in the direction of greater strategic flexibility for the company, and Mr. Redstone resigning his Chairman position, if press reports are accurate, would clearly be one of those steps," Mitchelson wrote before the announcement. "Mr. Redstone's controlling voting stake in the company will still hold back any radical strategic shifts, like an outright sale of the company, but a new Chairman could push for more modest shifts that do not require a shareholder vote such as selling Paramount/EPIX."
He was partially right. Shari Redstone, in a statement after the vote was made public, said that she would "continue to advocate for what she believes to be in the best interests of Viacom shareholders."
While there were some hopes that a shift was in store, in reality, there wasn't much chance of anything dramatic happening.
"There wasn't an obvious choice," said one analyst who asked not to be named, adding that given Viacom's precarious situation it would have been difficult to tap an executive from outside of the company. And most of the insiders have either a relationship with Dauman, which would make taking the chairman role a bit awkward, or with Redstone.
But in the long run, with Dauman still CEO, it really doesn't matter who is chairman. Redstone didn't have any real input at the company as he deals with health issues. Dauman, who has made several changes at the company and has pumped more resources into original programming, still struggles with low ratings, declining ad revenue and the threat of lost subscribers through cord-cutting, skinny bundles and over-the-top services.
But the decision for Sumner Redstone to step down, especially as his health has declined and on the eve of a court-ordered competency test, could point to a shift for the company.
"The news highlights that we're probably closer to the day where Redstone's family trust will control the company rather than Redstone himself," wrote Pivotal Research Group senior research analyst advertising Brian Wieser in an e-mail message. "As it also seems likelier that Shari Redstone is not interested in building her own empire with Viacom and CBS, that suggests that when the trust is in control it will be focused on purely financial goals rather than sentimental ones."
The smarter way to stay on top of the multichannel video marketplace. Sign up below.