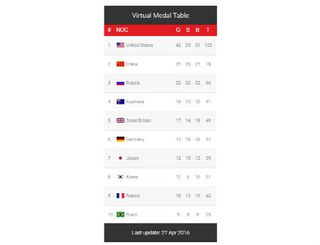 Big Data can help companies make predictions about a lot of things. How much bandwidth will I need two years from now? What are my opportunities to upsell a customer? How vulnerable is my network to an outage? Which country will win the most medals in Rio this summer?
The latter is what Gracenote is taking an informed stab at today using its trove of sports data, including performance info tabulated from thousands of events since the 2012 Summer Games, including World Championships and World Cups (or equivalent), and an Olympic database that goes back more than 100 years.
Gracenote, which launched a sports unit last year after acquiring two sports data firms last year (Infostrada Statistics B.V. and SportsDirect), revealed a "Virtual Medal Table" that predicts that Team U.S.A. will come away with 102 medals (42 gold, 29 silver and 31 bronze), beating out China's 78 medals, Russia's 66 and host country Brazil's 25.
Broken down further, Gracenote's forecast also sees the U.S. leading the most popular events at the Summer Games -- swimming, artistic gymnastics and athletics (track and field) – expected to bring home 31 medals for athletics, 24 for swimming and 8 for gymnastics.
Among Gracenote's predictions for individual athletes, Gracenote's data sees Michael Phelps notching five gold medals (100m butterfly, 200m butterfly, 200m individual medley, 4x100 medley, 4x200m freestyle), and one bronze medal (4x100m freestyle), with Katie Ledecky nabbing four gold medals (200m freestyle, 400m freestyle, 800m freestyle, 4x200m freestyle).
Gracenote's data also sees Argentina getting just two medals, which would be its worst result since Barcelona 1992.
Gracenote's findings arrive about 100 days before the Rio games get underway on August 5. We'll check back at the conclusion of the global sporting event to see how they fared.
The smarter way to stay on top of the multichannel video marketplace. Sign up below.
Thank you for signing up to Multichannel News. You will receive a verification email shortly.
There was a problem. Please refresh the page and try again.