Could the Title II Feud Lead to Telecom Reform?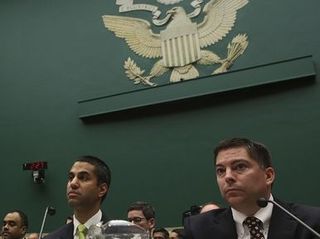 In the week since President Obama's unexpected "Title II" video debuted, plenty of Washington verbiage has been spilled on what happens next - and why.
The White House recommendation that the FCC should place public utility regulation upon Internet Service Providers rankled countless insiders and, of course, totally confused "civilians" - the unwashed masses who merely rely on the Internet for all kinds of business, consumer, financial and entertainment services.
By fortunate coincidence, several D.C. think tanks had already scheduled broadband seminars for the week, some timed as follow-up analyses to the recent Congressional elections, others keyed specifically to the evolving debate about Title II regulation. Obama's screed merely inserted an added dimension into the predictable, politically-fueled pronouncement that emerge from these think-tank symposia.
What did not emerge from these seminars or from Obama's appeal was any comprehensive approach to the big issue confronting policy-makers: an omnibus overhaul of the nation's communications law, the elusive "Telecommunications Act Reform" process on Capitol Hill.
Indeed, last week's Kabuki maneuvering and posturing about the FCC and Title II was a good way to distract attention from a really big topic - policy overhaul - and focus instead on the pretty-big topic du jour - Internet regulation. To be fair, some of the Washington events touched on copyright reform (which might include retransmission consent), media mergers, Internet tax issues (some of which require immediate action) and spectrum allocation.
Collectively, these interconnected issues cry out for integrated analysis and action. Realistically, the new Congress is unlikely to tackle such a massive undertaking - especially when brush fires such as Title II can both distract attention and simultaneously attract so much lobbying support (i.e. contributions).
Inevitably, at last week's seminars, there was substantial debate about the merits of "Section 706" (the part of the 1996 Telecom Act that lets the FCC oversee "Advanced Telecommunications Capabilities") versus Title II regulation. For example, at Friday's Free State Foundation session entitled "Thinking the Unthinkable" (i.e. the 'utility model" regulation) Rep. Bob Latta (R-Ohio), who sits on the House Communications Subcommittee, and the two Republican members of the FCC blasted the "unthinkable" idea of Title II regulation.
FCC commissioners Ajit Pai and Michael O'Rielly(pictured left and right) both pointed to two significant ripple effects of imposing Title II regulation on ISPs: putting onerous Universal Service Fund fees on ISP usage and sending a bad message about America's Internet stance to foreign authorities. The USF issue would have more immediate impact on cable operators and other ISPs since customers would see substantial fees directly in each month's bill.
Pai and others are even more concerned about any policy that would embolden foreign governments, especially repressive regimes, to impose Internet regulation of all sorts on their domestic system operators. Pai warned that if the FCC adopts a restrictive Title II policy, it would further diminish America's credibility and tell other nations to "do as we say not as we do."
In addition, there are immediate problems, such as how a unilateral U.S. regulation policy will affect international treaties for dealing with transborder communications, an issue with vast consequences in the Internet Protocol era.
In separate remarks at the Free State Foundation event, O'Rielly focused on forebearance, the process by which the FCC could carve out exemptions from its most severe policies. But as O'Rielly said, it "should not be conceived as easy" and there has been no indication about which parts of Title II might receive such forebearance.
Last week's seminars served as reminders about the complexity of the individual issues and the inevitable frustrations triggered by such piecemeal action rather than a comprehensive process, such as a Communications Act overhaul.
Going down either road will take a lot of time, and as the recent policy-wonk omphaloskepsis reminds us: there is unending contemplation ahead. Bringing it all into a bleak perspective were the concluding comments at the FSF seminar.
It's a "regulatory rat hole," said Gerald Faulhaber in an abject summary of the FCC's current options. Faulhaber, a former FCC chief economist and now professor emeritus at the University of Pennsylvania's Wharton School, characterized the choices:
"The only difference between Title II and Section 706 is how fast we go down the rat hole."
The smarter way to stay on top of the multichannel video marketplace. Sign up below.
Contributor Gary Arlen is known for his insights into the convergence of media, telecom, content and technology. Gary was founder/editor/publisher of Interactivity Report, TeleServices Report and other influential newsletters; he was the longtime "curmudgeon" columnist for Multichannel News as well as a regular contributor to AdMap, Washington Technology and Telecommunications Reports. He writes regularly about trends and media/marketing for the Consumer Technology Association's i3 magazine plus several blogs. Gary has taught media-focused courses on the adjunct faculties at George Mason University and American University and has guest-lectured at MIT, Harvard, UCLA, University of Southern California and Northwestern University and at countless media, marketing and technology industry events. As President of Arlen Communications LLC, he has provided analyses about the development of applications and services for entertainment, marketing and e-commerce.