Contradictory Reports Muddle Online Video News Outlook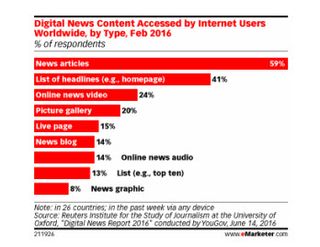 When it comes to user demand for video news online, two contradictory new reports suggest news buffs either (a) want more or (b) tire of it quickly and favor online articles.
The conflicting reports, which surfaced this week, should make it easy for programmers and operators evaluating how deeply to dive into online news, documentary and non-fiction content distribution to postpone any decisionmaking. With two very different perceptions of the value of online video news delivery, the reports -- one by The New York Times and one from the Reuters Institute for the Study of Journalism -- underscore the uncertainty.
It's worth looking at users' appetite for online video in the context of longitudinal studies, such as Cisco's semi-annual Video Network Index, which expects that video will consume about 80% of broadband delivery capacity within the next few years. Video news will make up a small part of that stream, but no one can yet guess how much, or how little.
(Evaluating new reports is especially delicious when multiple, contradictory outlooks materialize simultaneously, presenting widely different perspectives and predictions.)
Add to the background a third report on the related topic of marketers' growing romance with video. Animoto, a New York-based online video producer, said in its 2016 Social Video Forecast that nearly two-thirds of marketers plan to use video in their campaigns this year, with Facebook and YouTube the primary distribution outlets. In various ways, news content is involved with all of these platforms.
Also underscoring the potential demand is a dispute that has emerged between Web-centric publishers and the five networks that run the video pool covering the upcoming national political conventions.
A dozen print and online publishers that carry extensive video news content, including the Washington Post, The Los Angeles Times, Wall Street Journal, BuzzFeed and Vox.com, are appealing to obtain pool video at affordable prices, according to a WSJ report. CNN, ABC, CBS, Fox and NBC contend that non-members of their pool will have to bear the higher costs of production at the conventions and other events. The non-TV streamers have asked the White House Correspondents' Association to intervene in their effort, possibly by creating a new digital video production pool, according to the Journal report.
The New York Times's take on the video news outlook is optimistic, coming in a story that chronicles newspaper and magazine publishers' efforts to accelerate their video output. It quotes Michael W. Ferro Jr., chairman of Tronc -- the company formerly known as (Chicago) Tribune Publishing -- as saying: "Right now we're doing a couple hundred videos a day. We think we need to be doing 2,000 videos a day."
That would amount to nearly three-quarters of a million videos per year, far more than any TV newsroom cranks out. The Times article goes on to profile a handful of producers who are handling video creation and editing video assets for newspapers and magazines, including those from Gannett, Hearst, Time Inc. and the Huffington Post. The goal is to raise the revenue from ads, since video commercials are seen to be more valuable than text/graphics ads.
The bulk of the Times report is on automation tools that can make video production faster and cheaper, although the story acknowledges that such systems can "commoditize" content and turn off viewers.
And that concern surfaces in the newly released Reuters Institute for the Study of Journalism report, which is decidely less rosy, finding that online news consumers are ambivalent about watching video news. Only 5% said they watch, rather than read, digital news stories. While 59% of online news readers look at articles, only 24% spend time on video.
Just a few days before those numbers surfaced, in a move that would seem aligned with the report's conclusions, Facebook announced that it is cutting news-oriented content from digital publishers and will increasingly prioritize user-generated content in news feeds.
The Reuters Institute report updates a study released earlier this year from the same group, which found that most young Internet users (under age 35) are significant consumers of online news, but don't expect social media to deliver it. Overall, the news junkies said it is "quicker and more convenient" to read, rather than watch; that pre-roll ads turne them off; and that "videos take too long to load."
Taken together, the dueling data and conflicting visions make it tough to determine where video news and other documentary content fit into the evolving online mix.
I'm frequently skeptical about the hyped forecasts and the questionable motives of much research -- especially when there's an apparent investment motivation to produce buoyant predictions. But this video cacophony raises costly perspectives on not only where to spend money, but how news will reach our democracy. That such contradictions still exist this far into the digital development era should raise all kinds of "caution" signs -- although it is equally easy to plunge ahead because opportunities still seem promising.
Most technology forecasts are about as reliable as today's gauges of the November 8 U.S. election results. Which is to say, "directional" at best, more likely "inconclusive." With so many unexpected factors ready to affect the situation -- in politics as in business -- it's hard to make plans based on questionable forecasts and wishful thinking.
The smarter way to stay on top of the multichannel video marketplace. Sign up below.
Contributor Gary Arlen is known for his insights into the convergence of media, telecom, content and technology. Gary was founder/editor/publisher of Interactivity Report, TeleServices Report and other influential newsletters; he was the longtime "curmudgeon" columnist for Multichannel News as well as a regular contributor to AdMap, Washington Technology and Telecommunications Reports. He writes regularly about trends and media/marketing for the Consumer Technology Association's i3 magazine plus several blogs. Gary has taught media-focused courses on the adjunct faculties at George Mason University and American University and has guest-lectured at MIT, Harvard, UCLA, University of Southern California and Northwestern University and at countless media, marketing and technology industry events. As President of Arlen Communications LLC, he has provided analyses about the development of applications and services for entertainment, marketing and e-commerce.