Consumers Says UX Is Top Feature for Smart TVs, Streaming Players: Study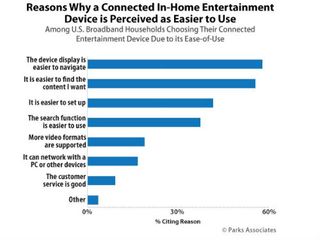 A solid user experience is a top desire from consumers on smart TVs and TV-connected streaming devices, Parks Associates found its a new "Market Snapshot" study of that sector.
Per the study, navigation was a the top reason cited by consumers in terms of which attribute drives ease-of-use in in-home entertainment devices, edging out content discovery and ease of set up. Of less importance were the number of video formats supported, whether they work with PCs and other devices, and the level of customer service (see chart).

Updated:Parks Associates said most of the data in the snapshot comes from a Q1 2017 survey of about 10,000 people, which it used to draw its conclusions about UX becoming a key focus for smart TVs and streaming players. It also drew those conclusions in part to discussions with industry execs and the firm's own insight.
Parks Associates said 45% of U.S. broadband homes now have a smart TV, currently the most commonly used platform for those homes when it comes to accessing online video content.
Notably, 11% of U.S. broadband homes have a "strong intention" to buy a 4K/Ultra HD TV this holiday season, though overall device sales of flat-panel TVs have flattened out, noted Jennifer Kent, director of research quality and provide development at Parks Associates.
"As a result, we are seeing new partnerships among device manufacturers focused on ways to improve or refresh the UI of the smart TV, to make the device easy to use and a single point of content in the living room," she said.

Recent examples include Samsung's integration of Amazon Music into its smart TVs, and new TV products from Philips that are powered by Roku's OS.
RELATED: Philips Launches First Roku TV Model
The study also found that more than 50% of U.S. broadband homes find voice control appealing for entertainment and smart home devices, and voice control for all devices, including TVs, security systems and appliances.
The smarter way to stay on top of the multichannel video marketplace. Sign up below.