Congressional Group Takes a Closer Look at IoT's 'Disruptor' Factors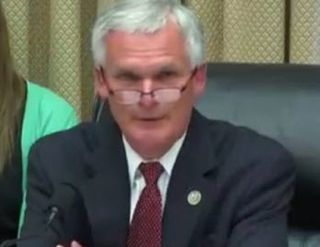 After sampling dozens of Internet of Things opportunities -- from smart cities to medical sensors to autonomous vehicle prospects -- members of the House Digital Commerce and Consumer Protection Subcommittee sat down Tuesday (June 13) to hear about the challenges of bringing IoT to the American public.

The show-and-tell event was the latest installment of the "Disrupter Series: Update on IOT Opportunities and Challenges," organized by the subcommittee of the House Energy & Commerce Committee," to identify policies that could affect technology innovation in this much-touted communications-based category of products and services.

Subcommittee chair Rep. Bob Latta (R-Ohio; pictured), in opening the session, said he wanted to explore "how we as policy makers can continue to support IoT and address any regulatory obstacles or barriers that may stifle innovation or hinder the industry."

Coincidentally, the session was held simultaneously with another Commerce subcommittee hearing on wireless security, a point mentioned by Rep. Frank Pallone (D-N.J.).

"We are all faced with the challenges of integrating technology .... particularly cybersecurity," Pallone said, citing the hearing on risks in wireless technology. "I hope we as a committee will consider real legislative solutions" although he also insisted that "creators and manufacturers of Internet-connected technology must take responsibility for mitigating" any threats.

"I implore [them] to build in security from day one," Pallone said. He also emphasized that the industry should "be mindful of consumer privacy."

"Consumers have already told us they want control of who has access to their data," he emphasized.

In her opening remarks, ranking member Jan Schakowsky (D-Ill.) cited the value of energy generation and medical devices in the IoT race, calling them "two great examples of how innovation can benefit our country."

She went on to extol "research universities like Northwestern" (based in her district) as "critical to the future of innovation ... to help this innovation continue." Schakowsky also focused on the "enormous potential of the Internet of Things" but warned that the user experience, privacy and security are vital to the "make-up of connected devices" and should be part of government's assessment as it seeks to help consumers "realize the full benefit of this technology."

About two dozen organizations demonstrated their wares at an IoT Showcase in a House Office Building foyer prior to the hearing; the exhibits ranged from Smart Cities to medical assistance devices. Subcommittee members invited groups from their home districts to display products and services and explain to members and staffs how IoT is changing the way they do business.

Exhibitors included Qualcomm, Panasonic, General Motors, Honeywell and Siemens, plus utility companies, entrepreneurial IoT developers and academic start-up labs, such as The Garage at Northwestern University.

Witnesses Focus on Security, Spectrum and Light Regulation
Bill Kuhns, director of product development at Vermont Energy Control Systems LLC, a North Ferrisburgh, Vt., small business that makes home monitoring and control systems, offered an impassioned plea to "avoid heavy-handed regulations that could stifle innovation." He also cited spectrum and security factors that must be included in IoT development.

"This is an area where innovation is happening at a breakneck pace," Kuhns said in his prepared statement. "The potential benefits are enormous. It's important that we allow the evolution of this technology to proceed with as few barriers and impediments as possible."

Kuhns cited the important of spectrum policy, especially lower frequencies.

"They don't support high data rates, but they work better through walls and trees," he explained. "It would be helpful to free up additional low-frequency spectrum for low-power devices. It would be crippling to sell rights to more specific bands at auction. Bandwidth is a finite public resource, and selling it to the highest bidder effectively shuts out small businesses."

As for security, Kuhns emphasized that IoT makes "every connected device ... a risk."

"If you can connect to it, so can an intruder," he said. "Physically, I live in a very safe area. On the Internet, I live in a high-crime district. We see literally hundreds of probes and connection attempts every day."

Cameron Javdani, director of sales and marketing at Louroe Electronics, a Van Nuys, Calif., audio security firm, also focused on security in IoT technologies. He cited the value of networked devices that let security officials monitor larger geographic areas and take advantage of economies of scale to reduce the operating costs of their system.

"Technology growth within the security and surveillance industry is largely focused on the analytic capability of a system," Javdani said. "Very few security devices are monitored in real time, which means that IoT devices are data sensors, and not surveillance equipment as they are more conventionally thought of. ... Used alongside other networked security technologies, this type of system provides for optimization of security resources as it no longer becomes necessary for staff to monitor all areas at all times.

"As IoT technologies continue their adoption in the security industry, there are certain risks that present themselves," Javdani added. "Without taking appropriate precautions, consumers put themselves at risk of their privacy being violated. ... Certain malware and viruses scan networks for IoT devices that accept default credentials, and then use these devices to conduct large scale denial of service attacks."

Peter B. Kosak, executive director, urban active solutions at General Motors North America, focused on IoT's automotive opportunities. He testified that autonomous or self-driving technology "promises opportunities to make chaotic urban environments safely manageable."

"Embedded connectivity, app-based access, and data science will yield safer and more robust transportation systems, with more modality options," he said, going into great detail about GM's "Maven" platform for on-demand mobility. Maven's variations are in part aimed at "on-demand leasing for rideshare drivers," which has evolved into "Maven Gig," an enabler for the sharing economy. He cited GM's recent acquisitions and investments which are intended "to unlock the potential of autonomous vehicle and system capabilities as soon as possible."

"Business model and technology innovations promise to transform mobility, affording greater access and improved quality of life in cities," Kosak told the subcommittee in prepared remarks.
The smarter way to stay on top of the multichannel video marketplace. Sign up below.
Contributor Gary Arlen is known for his insights into the convergence of media, telecom, content and technology. Gary was founder/editor/publisher of Interactivity Report, TeleServices Report and other influential newsletters; he was the longtime "curmudgeon" columnist for Multichannel News as well as a regular contributor to AdMap, Washington Technology and Telecommunications Reports. He writes regularly about trends and media/marketing for the Consumer Technology Association's i3 magazine plus several blogs. Gary has taught media-focused courses on the adjunct faculties at George Mason University and American University and has guest-lectured at MIT, Harvard, UCLA, University of Southern California and Northwestern University and at countless media, marketing and technology industry events. As President of Arlen Communications LLC, he has provided analyses about the development of applications and services for entertainment, marketing and e-commerce.