Cheddar to Mix Some OTA With its OTT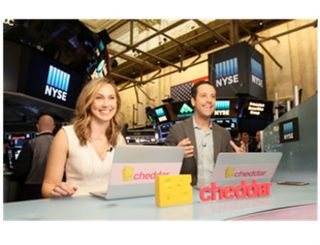 Cheddar, the OTT-fueled financial news service focused on the youngs, is reportedly adding some over-the-air distribution to the mix.
Bloomberg reports this week that it will air some of its programing on digital UHF stations in Cleveland; Orlando, Fla.; and Kansas City, Mo.; that reach about 4 million homes. Cheddar is renting spectrum from DTV America, the report said.
To aid the effort, Cheddar will distribute digital antennas at area Dunkin' Donuts stores. Dunkin' Donuts is one of Cheddar's big sponsors.
Another question is why they're doing this, given that millennials tend to eschew traditional TV in favor of OTT and mobile platforms.
RELATED: Sling TV Adds Cheddar, TheBlaze, Sling Kids VOD Channel
In interview with Bloomberg, Cheddar founder Jon Steinberg reasoned that over-the-air gives his service another outlet as OTA homes are on the rise, a trend that fits in with a group of cord-cutters and younger consumers who have never taken a regular pay TV service.
"Anywhere we can provide a stream that replicates that cable news viewing experience is where we're going to be," Steinberg told Bloomberg.
But the move is still a bit of a head-scratcher for some, including tech blogger Dave Zatz, who offered this response to the news:
Nothing makes sense anymore. -tweeted from my 8track player https://t.co/Q5xobl024V
— Dave Zatz (@davezatz) April 19, 2017
The smarter way to stay on top of the multichannel video marketplace. Sign up below.
Thank you for signing up to Multichannel News. You will receive a verification email shortly.
There was a problem. Please refresh the page and try again.