Celebrating World Wi-Fi Day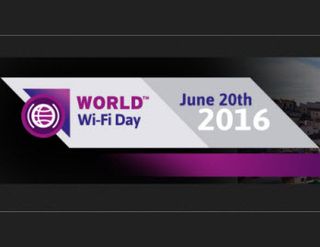 How will you celebrate World Wi-Fi Day on Monday, June 20? You can double-, triple- or even quadruple-dip your celebrations since the date is also this year's summer solstice as well as National Ice Cream Soda Day and National Vanilla Milkshake Day.
Or, as the Wireless Broadband Alliance, organizer of the self-proclaimed holiday, explains, you can support its celebration of "the significant role WiFi is playing in getting cities and communities around the world connected."
The group, which includes Comcast, AT&T, Cisco and Google among its 70 corporate members, also is positioning Wi-Fi Day as a way to encourage "exciting and innovative solutions to help bridge the digital divide" in both urban and rural venues.
Clearly, wireless broadband -- in all its flavors -- is the future of telecom. That's not lost on operators and others who have put billions of dollars into wired infrastructure, which will remain (for most of our lifetimes) an integral part of the emerging ecosystem. But, coincidentally, on the eve of World Wi-Fi Day, a separate report bluntly attested to the insatiable appetite for wireless bandwidth.
A report this week from Huawei Technology Corp. and Forbes Insights underscored the broader demand for wireless connectivity. More than 1,000 global executives from various industries were interviewed for "The Mobile Industrial Revolution: Anticipating the Impact and Opportunities of 5G Networks on Business"report. Overwhelmingly they called broadband networks "critical" to the way they do business. They also voiced concern that their needs are outpacing existing access networks.
The report (self-serving, of course, for a wireless equipment maker) dramatized the looming impact of untethered broadband. It cited business executives' need for mobile networks that provide ultra-high throughput and the expectation that 5G technologies will have positive effects on multiple areas of their businesses, especially in customer experience, service/product quality and worker productivity.
"5G will help to realize a completely new world for consumers, for vertical industries and for operators," said Qiu Heng, president of Huawei's Wireless Network Marketing Operation. "This will be a fully connected world converging the physical world and the cyber world, and this world will provide infinite new business opportunities for vertical industries and for operators."
Meanwhile, back on the World Wi-Fi Day front, J.R. Wilson, chairman of the Wireless Broadband Alliance, characterized the event as "a call to action for all stakeholders, [in both] industry and government, to advance and accelerate access to affordable wireless connectivity around the world."
Since the group's membership also includes cities such as New York and San Francisco and Palo Alto, Calif., -- along with Calgary, Alberta; New Delhi; Dublin; and a half dozen other local/regional governments -- the role of government in WiFi expansion may be foreboding.
WBA's vision for World Wi-Fi Day is focused on its "HOPE for Connectivity charter," which calls for funding WiFi deployments to unconnected communities globally, to provide affordable WiFi access for the communities in both rural and urban areas, and to "recognize the role of WiFi in addressing the digital divide."
In particular, WBA emphasized that it "is open to creative new ideas from supporters that recognize and celebrate the important role of WiFi in bridging the digital divide."
Although the implementation of such high-minded objectives remains uncertain, the value of wireless, including WiFi connectivity, should be atop the agendas of carriers and operators. It generally is there. Events and reports such as these emphasize the need to focus on wireless.
And if/when you get tired of celebrating World Wi-Fi Day on June 20, you can choose from several additional "holidays" designated for that day, including Plain Yogurt Day, World Humanist Day, Juggling Day and, of most significance to our colleague Leslie Ellis, International Surfing Day.
Celebrate responsibly. And digitally.
Contributor Gary Arlen is known for his insights into the convergence of media, telecom, content and technology. Gary was founder/editor/publisher of Interactivity Report, TeleServices Report and other influential newsletters; he was the longtime "curmudgeon" columnist for Multichannel News as well as a regular contributor to AdMap, Washington Technology and Telecommunications Reports. He writes regularly about trends and media/marketing for the Consumer Technology Association's i3 magazine plus several blogs. Gary has taught media-focused courses on the adjunct faculties at George Mason University and American University and has guest-lectured at MIT, Harvard, UCLA, University of Southern California and Northwestern University and at countless media, marketing and technology industry events. As President of Arlen Communications LLC, he has provided analyses about the development of applications and services for entertainment, marketing and e-commerce.
The smarter way to stay on top of the multichannel video marketplace. Sign up below.
Thank you for signing up to Multichannel News. You will receive a verification email shortly.
There was a problem. Please refresh the page and try again.