Cable-Tec Expo 2014: Five Takeaways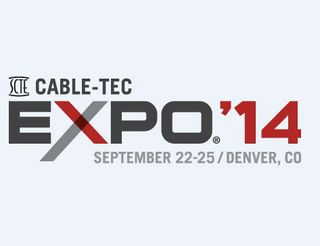 Another SCTE Cable-Tec Expo is in the books, and there was plenty to see and do in Denver, and there's more to think about as the dust continues to settle, but here are five quick takeaways:
DOCSIS 3.1 is making big progress:  If it wasn't clear enough heading into the show, it's now crystal clear – cable's pushing hard on DOCSIS 3.1. With interoperability plugfests slated for later this year and official certification/qualification testing anticipated to get underway as early as mid-2015, the industry is pushing the ball forward on a platform that will put cable operators in position to offer multi-gigabit services on a wide scale.
U.S. cable will play WiFi to the hilt: With a half-day dedicated to the topic, consider WiFi a front-burner project for the industry. While WiFi will continue to be used as a way to extend the reach of cable's high-speed infrastructure inside and outside the home, there's a subtle drumbeat that cable will indeed use WiFi as a voice platform, perhaps following the "WiFi First" cellular-fallback approach that Scratch Wireless is advocating.
Layer3 TV is the industry's new cool kid:  DOCSIS 3.1 and WiFi were the talk of the show, but Layer3 TV dominated the chatter – everyone seemed to be talking about this Denver-based startup, which is billing itself as a next-generation cable operator, but is still being coy about its overall strategy. Multichannel News caught up with the company in Denver and will be posting an update on its progress shortly.
Cable's getting energized about energy conservation: A keynote from Comcast's John Schanz and the follow up panel on the industry's Energy 2020 plan to reduce power consumption by 20%, energy costs by 25% and grid dependency by 10% shows that the industry is pretty darn serious about this initiative.  The goals are set. Now comes the hard part: Executing on them.
Signs Of consolidation were all around us: Despite a fantastic showing at the DOCSIS 3.1/WiFi pre-show Symposium and a nice boost in terms of vendor support and a jump in international attendance, overall attendance, at about 9,100, was down from the 9,800 who were on hand at last year's gathering in Atlanta. Private conversations with MSOs and suppliers indicated that there's much wariness on how the proposed Comcast/Time Warner Cable will affect the industry.
No one (who we talked to, anyway) at Cable-Tec Expo was jazzed about the new name of The Cable Show:  Or at least I couldn't find anyone who had a positive reaction to the decision to shift the name of The Cable Show to The Internet and Television Expo (INTX) starting with next year's confab in Chicago. In fact, many of the private responses relayed to me can't be printed here, as some cable people were downright peeved that the new show will include "Expo" in the name, and concerned that it will dilute the brand of the SCTE gathering. At the same time, most also realize that the decision wasn't made in a vacuum, and that the industry's higher-ups obviously saw a good reason to make the change and to broaden the scope of the annual confab. And it's going to take some time before the new name and moniker sinks in...a number of showgoers I talked to couldn't recall the call letters of the newly-named event, but did toss out that it reminded them of this once-popular band.
And the public comments about the change in The Cable Show's name were about as diplomatic as one might expect.  In comments made at this week's Chairman's reception at Cable-Tec Expo, Terry Cordova, the executive vice president and chief technology officer of Suddenlink Communications and the recently re-elected chairman of the SCTE board, offered assurances to those gathered that there are absolutely no plans underway to combine the two shows.
In an interview heading into the show, Mark Dzuban, SCTE's president and CEO, said he had no issue with the new show using "Expo" in its name, noting that it's a generic enough term that is used for a lot of trade shows, and that the goals and the scopes of the two annual events are so distinct that it shouldn't be a problem.
While INTX places a focus on legal, regulatory and policy, with new technology and services mixed in, Cable-Tec Expo  differentiates with its education and training slate and its focus on applied sciences, or "where the rubber meets the road," as Dzuban puts it.
"They show some of the cool, front end forward-looking stuff and we show what it takes to actually execute and operate. It's actually very complementary once you think about it," Dzuban said.
I'd counter that Expo, when uttered in cable circles, has always meant Cable-Tec Expo. Now it could mean something else and be open to market confusion. But it's early…we'll have to how the market reacts to the change next year and if some of the knee-jerk reactions are unwarranted.
So, that's a boiled down view of the big topics and what else was buzzing this week in Denver. But there was lots more going on. Please visit our SCTE Cable-Tec Expo micro-site for an in-depth rundown of what made news this week.
The smarter way to stay on top of the multichannel video marketplace. Sign up below.
Thank you for signing up to Multichannel News. You will receive a verification email shortly.
There was a problem. Please refresh the page and try again.