Broadband's Role in Infrastructure Buildout Tops 'State of the Net' Agenda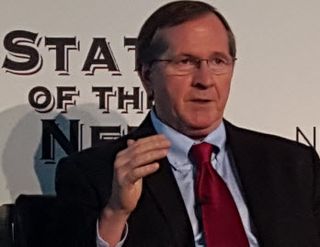 Sen. Brian Schatz (D-Hawaii), in early comments at Monday's annual State of the Net conference in Washington, presaged a discussion later in the day about whether and how federal support to build broadband facilities should be part of the Trump administration's proposals for upgrading the nation's infrastructure of roads and bridges.
That dialog sparked an examination, suitable to the venue and referred to throughout the day as part of the "kinetic versus cyber" ecosystem, of telecommunications' importance vis-à-vis tangible products.
"The more we can do in the broadband space, the better," Schatz said in his remarks at the conference. "We can get bipartisan support," but he proposed that "we should do little things" rather than go for sweeping telecom reform.
Schatz also addressed the continuing controversy about net neutrality, insisting that, "reversing the Open Internet order is not so easy." He said that "right now it is just too polarized" to legislate on that issue, although he thinks Congress should do so.
"I'm open to legislating but only if it's not a Trojan horse for undermining the authority that is already in place," said Schatz, who sits on the Senate Committee on Commerce, Science and Transportation.
He also said he "believes Jessica should be back on the FCC," a reference to former Democratic FCC commissioner Jessica Rosenworcel, whose term ended after an ill-fated, politically laced attempt to reappoint her in late December.
Schatz's remarks included his views on privacy and the Internet of Things, which were major topics throughout the SOTN annual conference.
"IoT is one of the spaces where we need rules of the road; also artificial intelligence as it relates to law enforcement," Schatz said. "I don't think this is apocryphal sci-fi stuff. We have to have this conversation, ideally private-sector driven."
He did not offer any suggestions on how Congress would become involved in these rapidly developing tech/telecom sectors.
At a subsequent session on IoT, Dr. Ron Ross, a fellow at the National Institute of Standards and Technology, characterized cybersecurity intrusions as "the greatest national security problem," emphasizing that communications and utility operators are not adequately prepared for attacks, such as "exfiltration" of customer information. He said building the infrastructure to defend against cyberattacks "is incredibly complex."
The panel also addressed looming issues such as liability and how IoT systems can be built that enable consumers to keep control over their own data.
Reassigning Spectrum, Funding Broadband Deployment
A session on "Rethinking the Future of Communications Policy" spanned a terrain from spectrum allocation to FCC staffing.
After declaring the current broadcast incentive auction a success (despite its lower-than-expected revenue results), the panel said it expects further efforts to retrieve airwaves for new digital applications. In particular, the panel focused on government agency controlled airwaves, which it called "the low hanging fruit for more spectrum."
Larry Downes, project director of the Georgetown University Center for Business and Public Policy, cited the opportunity for the new administration "to incentivize federal agencies with underused spectrum to give it up or share it for commercial use.
Although the Defense Department is unlikely to relinquish its massive spectrum holdings, according to panelists, airwaves controlled by aviation and other agencies may be diverted to commercial use. No one offered specifics regarding timetable or how the transfer would be accomplished.
Broadband will be part of the Trump administration's national infrastructure construction plan, said Markham Erickson, a partner at Steptoe & Johnson law firm, who represents telecom and internet clients. He expects the primary federal actions will be created by providing tax incentives and subsidies for private investment, "some mechanism to get broadband out to rural places."
Erickson also said he expects that the FCC will retain "extensive regulations" over some telecom sectors, although he did not cite specific topics.
With FCC transition team member Mark Jamison (pictured above) on the panel, discussion also touched on the extent of the FCC reorganization agenda. Jamison, who is director of the Public Utility Research Center at the University of Florida, was a member of the Trump transition team working on the FCC.
Jamison said that the "basic goal" was to "elevate the role of technical analysis."
"It's easier to hire lawyers than economists or engineers," he said. "I think the commissioners and public will be better served" with more technical expertise.
Gigi Sohn, a former advisor to former FCC chairman Tom Wheeler, concurred, noting that it was "very frustrating to bring engineers and economists" from telecom and media companies and count on their information. "As a result, we're reliant on industry input," Sohn said, lapsing, as she frequently did on the panel, to using "we" when discussing a job she left three weeks ago, a very common gaffe among recently quondam public servants. She joked about the ex post facto "we" that crept into her comments.
The panel agreed that FCC reorganization should reflect greater overlap of activities that affect multiple bureaus.
"The FCC should recognize the convergence of all kinds of Internet Protocol technologies," said Downes. "There is no need to separate bureaus based on [legacy] structures."
Sohn also used the platform to predict that Trump appointees will adopt the mantra "Consolidation, consolidation, consolidation," in counterpoint to Wheeler's "Competition" mantra. She predicted that the FCC will have no role in upcoming merger considerations, with those functions going to the Federal Trade Commission and Justice Department.
Erickson pointed out that there are similar rules at various bureaus and agencies, noting as an example that the Justice Department may be better equipped to take "a bigger view of intermodal and intramodal competition."
In his closing keynote, Sen. John Thune (R-S.D.) avoided any indication that an omnibus Telecommunications Act reform is in the works.
Comcast was the only "Platinum Sponsor" of the annual event; AT&T, Verizon and Google were among the "Gold Sponsors."
The smarter way to stay on top of the multichannel video marketplace. Sign up below.
Contributor Gary Arlen is known for his insights into the convergence of media, telecom, content and technology. Gary was founder/editor/publisher of Interactivity Report, TeleServices Report and other influential newsletters; he was the longtime "curmudgeon" columnist for Multichannel News as well as a regular contributor to AdMap, Washington Technology and Telecommunications Reports. He writes regularly about trends and media/marketing for the Consumer Technology Association's i3 magazine plus several blogs. Gary has taught media-focused courses on the adjunct faculties at George Mason University and American University and has guest-lectured at MIT, Harvard, UCLA, University of Southern California and Northwestern University and at countless media, marketing and technology industry events. As President of Arlen Communications LLC, he has provided analyses about the development of applications and services for entertainment, marketing and e-commerce.