Amazon Video Streams on JetBlue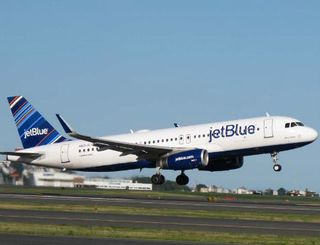 Amazon is the latest streaming service to fly the friendly skies.
Timed with the start of the holiday travel season, the retailing giant announced last week that its  Amazon Video service is now offered on more than 150 JetBlue aircraft equipped with free "Fly-Fi" connectivity.
Under the arrangement, Amazon Prime subscribers can log-in to access their video library, including Amazon originals such as The Man in the High Castle, while non-members can rent or purchase titles from the Amazon Video store.
As part of a multiyear deal, Amazon on JetBlue has been integrated into The Hub, the airline's entertainment portal that customers access on their personal devices.
JetBlue said it plans to complete its installation of Fly-Fi, a service that uses Ka-band satellite technology, on its entire fleet in 2016. JetBlue currently has it installed on all its Airbus A320 and A321 aircraft, and has begun installation on its fleet of Embraer 190s.
Access to Amazon Video complement's JetBlue's offer of 36 channels of live DirecTV service and 100-plus channels of SiriusXM Satellite Radio.
Amazon, which recently introduced an option that lets Prime subs download select titles from their streaming libraries for offline viewing, joins a growing mix of OTT services that provide access on planes.
Netflix, which has shunned the video download distribution model, offers its SVOD service on select Virgin America flights. In the more traditional pay TV arena, Comcast and Epix are among those that let credentialed subscribers download movies and TV shows for offline viewing.
Weekly digest of streaming and OTT industry news
Thank you for signing up to Multichannel News. You will receive a verification email shortly.
There was a problem. Please refresh the page and try again.