Netflix Streaming Takes Flight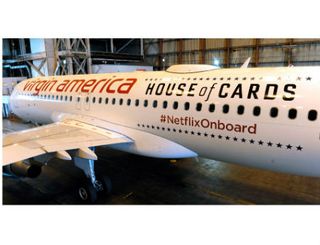 Netflix is joining the Mile High Club…or make that the 6.6 Mile High Club, as the service will be available on select Virgin America flights once they reach an altitude of 35,000 feet.
Netflix has been abundantly clear that it won't follow the footsteps of Amazon, Comcast and Epix and provide its customers with a downloading option that will allow them to enjoy their subscriptions when they are offline or have access to usually pitiful in-flight WiFi connections.
But the scenario is changing in some ways for consumers who fly Virgin America.
While downloading still isn't an option there, Netflix and the "low-fare, upscale airline" announced this week that they will provide complementary in-flight WiFi access that will provide enough pop to support streaming starting next month.
In this case, Virgin America will enable it on jets (10 new Airbus A320 models that are being delivered this fall through mid-2016) that are equipped with a new ViaSat-powered system, and provide that access for free through March 2, 2016. In addition to into ViaSat-1, a Ka-band bird that provides total capacity of 140 gigabits per second, the Virgin America system will utilize ViaSat's new hybrid Ku/Ka-band antenna (ViaSat claims that its Ku/Ka-band network covers 85% of the world's most traveled air routes).
To prime the pump, Virgin America will also offer the first three seasons of Netflix original House of Cards for free on its new "Red" touchscreen seatback in-flight entertainment platform.
Neil Hunt, Netflix's chief product officer, told Gizmodo recently that the OTT provider is also interested in providing an in-flight "rack box" that contains the full Netflix library, an apparent twist on the company's Open Connect private content delivery network program that relies on single-purpose edge caches.
Going forward, travelers on ViaSat-equipped Virgin America flights will be able to sign into their existing Netflix accounts or sign up for a 30-day free trial (giving Netflix a subscriber aquisition opportunity) and connect to the service at 35,000 feet.
The airline and Netflix also cheered the launch with a new #NetflixOnboard-branded plane (see image) and an appearance by Michael Kelly (the Machiavellian Doug Stamper on House of Cards), who dropped in on Virgin America Flight 1 from San Francisco International Airport to Washington Reagan National Airport.
"We hope our guests enjoy the offering and know that even President Frank Underwood can't get entertainment this good onboard Air Force One," Abby Lunardini, Virgin America VP of brand marketing and communications, said in a statement.
"As WiFi becomes more ubiquitous, it's going to be increasingly possible for members to enjoy Netflix wherever they want," added Bill Holmes, Netflix's global head of business development. "We're delighted to partner with Virgin America to extend the joy of Netflix to our members at 35,000 feet."
Netflix and Virgin America weren't the only ones flying high this week. Separately, Panasonic Avionics and Rovi announced a deal in which Panasonic will tap Rovi's metadata to manage the programming guide for eXTV, its global in-fight TV service. Panasonic provides inflight entertainment and communications (IFEC) systems on more than 3,700 aircraft.
The smarter way to stay on top of the multichannel video marketplace. Sign up below.
Thank you for signing up to Multichannel News. You will receive a verification email shortly.
There was a problem. Please refresh the page and try again.