Amazon Stops Reselling Cable Services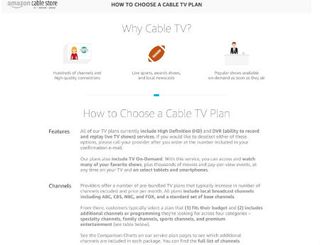 Amazon has shut down an electronic storefront that was being used to resell services from providers such as Comcast and Frontier, TV Predictions reported.
Amazon started to hawk Comcast services about a year ago, and began to do the same with Frontier late last year. The URL for what used to point users to the Amazon Cable Store (http://www.amazon.com/cablestore) is no longer active, and instead brings up a page full of recently viewed items and recommendations.
RELATED: Amazon.com Starts to Sell Comcast Services
Last year, Comcast called the partnership "another step in Comcast's multi-year effort to transform the customer experience." Xfinity purchases made on Amazon were supported by a dedicated team of Comcast customer service agents based in Comcast's new call centers in Spokane, Washington, and Tucson, Arizona. They were specifically trained to handle all customer service interactions from sales and billing to installation and follow-up, Comcast said then.
Amazon has been asked for comment on the reasons for the decision, but told TV Predictions that the company is "constantly testing and launching new offerings to innovate on behalf of customers." It's also not clear if many consumers actually signed up for services via Amazon's Cable Store.
Amazon was selling double-play and triple-play packages from its partner services providers even as it continued to build and expand its own video services business.
Amazon already runs Amazon Prime, a popular subscription membership that includes a large video streaming library, and has since expanded on that with Amazon Channels, an SVOD aggregation service that now counts more than 100 channels, including a pair of new home-grown SVOD offerings – Heera and Anime Strike.

RELATED: Amazon Channels Tunes In 'Heera'
Amazon has also been long-rumored to be developing an OTT TV service that would compete with traditional MVPDs as well as virtual MVPDs such as Sling TV, DirecTV Now, fuboTV, and the coming YouTube TV service and a new live TV offering from Hulu that is nearing its debut.
The smarter way to stay on top of the multichannel video marketplace. Sign up below.
Thank you for signing up to Multichannel News. You will receive a verification email shortly.
There was a problem. Please refresh the page and try again.