5G's Impact on Broadband Competition and New Applications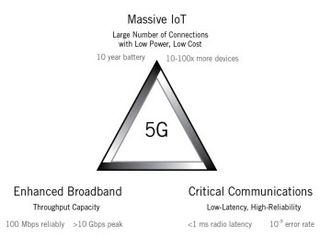 Fifth-generation (5G) wireless technologies present "a unique opportunity to radically expand the capacity and flexibility of wireless networks, which will have profound implications for broadband competition and productivity growth," according to a report published on Thursday.
The Information Technology and Innovation Foundation (ITIF) evaluation "5G and Next Generation Wireless: Implications for Policy and Competition" urges that national and local  policymakers "should support the development' of next-generation networks by ensuring new spectrum is available and by streamlining deployment of physical infrastructure.
Related:ITIF Report: FCC's 5G Efforts Should Focus on Spectrum, Not Standards
"We will continue to see additional competition in providing broadband access, as the performance of wired and wireless networks converges," ITIF said. "5G networks will also enable a new level of IoT connections, touching key verticals throughout our economy."
ITIF's "5G" triangle (see illustration) focuses on the "confluence of technologies is enabling an adaptable network that effectively provides numerous new functions." It singles out "enhanced broadband," "Massive Internet of Things " and "Critical Communications" as the three major categories for 5G, pointing out the very different capacity, reliability and accessibility of each application.
"Video places an order of magnitude larger demand than most other uses on the capacity of networks, so to enhance mobile broadband, end-user download speed remains the main driver," says the report, written by Doug Brake, a telecommunications policy analyst at ITIF. "For mobile to become a more robust competitor for wireline broadband networks, speeds will need to increase, and in a way that is economical as to see larger monthly data plans."
ITIF expects that "with the right policies in place, 5G will provide wildly increased capacity, allowing for super-high definition streaming of augmented reality; far more numerous, less costly connections, supporting a boom to IoT; and highly reliable connections, enabling critical communications and large-scale industrial automation."
Citing existing circumstances, the report acknowledges that pole attachment and other infrastructure policies for wired communications must be addressed in overall 5G planning. And as part of its extensive contemplation about standards and competitiveness, ITIF warns that "too strong a government hand in guiding technical standards, especially when tied to arbitrary deadlines, can lead to sub-optimal outcomes."
At a Thursday seminar accompanying the release of the ITIF report, officials from Verizon, Qualcomm, Intel, Samsung and other companies evaluated business approaches to 5G.
Charla Rath, vice president-wireless policy development at Verizon, affirmed that, "We have made clear that we want to take an aggressive stance on 5G."
"It's going to be a transition of ...networks of networks," Rath said "It's going to be a lot of different spectrum,"  including licensed and unlicensed spectrum. She noted that "IoT is increasingly about video."
Peter Pitsch, executive director of communications policy and associate general counsel at Intel, characterized the introduction of 5G: "We're going to get spectrum in the marketplace in a flexible way."
"We're going to need low, medium and high spectrum, not just for capacity but because of the differences of capabilities ... for applications," Pitsch explained.
Noting that he's often a critic of FCC spectrum policies, he complimented chairman Tom Wheeler's "astounding effort" to make spectrum available, noting that 28 GHz and 37-40 GHz  will be licensed. Pitsch predicted that because things are moving so quickly already, there will be fast action making  65 -71 GHz bands available on an unlicensed basis.  He said he expects the FCC will make licenses available "in a very flexible, investment-friendly way...[for] long-term licenses with reasonable technical limits."
Weekly digest of streaming and OTT industry news
Thank you for signing up to Multichannel News. You will receive a verification email shortly.
There was a problem. Please refresh the page and try again.