UK Politicians Say Facebook Creating 'Crisis in Democracy'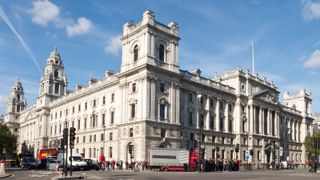 The UK Parliament is taking aim at Facebook, saying the social media company's practices are causing a "democratic crisis."
A new report by the Parliament's Digital, Culture, Media and Sport Committee said Facebook should be held accountable for the "misleading" content on its platforms.
Facebook's fortunes (as well as the personal fortune of founder and CEO Mark Zuckerberg) have fallen in the wake of the Cambridge Analytica data-sharing scandal and other revelations of data privacy abuses at the company.
Related: Facebook Stock Plunges After Revenue Miss
U.S. legislators have also been looking into the company and its data-sharing practices, summoning Zuckerberg to testify on the Hill last April. Just two months later, The New York Times reported Facebook had also shared users' data with device makers, including Apple.
The company faces scrutiny for possibly violating the terms of its 2011 consent decree with the Federal Trade Commission to settle charges that Facebook deceived consumers by telling them they could keep their information on the social media platform private, and then repeatedly allowing the data to be shared and made public.
A Nov. 29, 2011, FTC statement said the decree "bars Facebook from making any further deceptive privacy claims, requires that the company get consumers' approval before it changes the way it shares their data, and requires that it obtain periodic assessments of its privacy practices by independent, third-party auditors for the next 20 years."
Ashkan Soltani, a former FTC CTO who is now a consultant, told Congress in June that he believes the company's actions indeed violate the terms of the consent decree.
A June poll by the nonprofit watchdog group Campaign for Accountability found the majority of Facebook users don't trust the company with their personal data, and an even larger majority said they believe "large internet and technology companies" should be more heavily regulated. Nearly two-thirds of respondents (63%) said they "do not trust Facebook to obey the law when it comes to protecting their personal information."
The smarter way to stay on top of the multichannel video marketplace. Sign up below.
Thank you for signing up to Multichannel News. You will receive a verification email shortly.
There was a problem. Please refresh the page and try again.