Amazon Unveils 'The Man In The High Castle' Video Trailer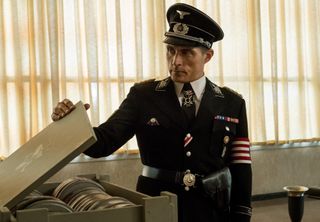 Amazon Thursday released the official video trailer for the third season of its Emmy-winning drama series The Man In The High Castle, which debuts Oct. 5 on the streaming service. 
Based on Philip K. Dick's award-winning 1962 alternate history novel, The Man in the High Castle explores what would have happened if the Allied Powers had lost World War II.
The Man in the High Castle -- executive produced by Ridley Scott, David W. Zucker, Richard Heus, Isa Dick Hackett, Daniel Percival and Eric Overmyer -- stars Alexa Davalos (Mob City), Luke Kleintank (Pretty Little Liars), DJ Qualls (Z Nation), Joel De La Fuente (Hemlock Grove), Brennan Brown (Focus), Bella Heathcote (The Neon Demon) Chelah Horsdal (You Me Her) and Jason O'Mara (Agents of S.H.I.E.L.D.),Cary-Hiroyuki Tagawa (Revenge) and Rufus Sewell (Victoria).
Weekly digest of streaming and OTT industry news
Thank you for signing up to Multichannel News. You will receive a verification email shortly.
There was a problem. Please refresh the page and try again.