Zuckerberg Faces Second Hill Gauntlet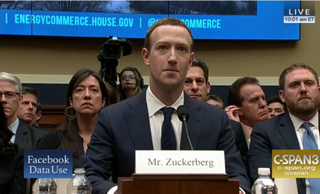 Mark Zuckerberg continued to get a Hill hammering Wednesday (April 11) as the Facebook CEO continued to apologize for not sufficiently monitoring the social media site for bad actors and pledged to do better.
Apology was not accepted in most cases, and self-regulation appeared not to be the leading candidate for preventing future issues with protecting user data from abuse and letting them know what didn't qualify as abuse.
The hearing was still going on, but the battle lines were clear over issues including trust, potential bias, compliance with government consent decrees, and who owns online content. And while there was praise for Facebook as a vehicle for communications and social change and Zuckerberg as a great American success story, and employer of constituents, there were far more brickbats than bouquets.
Zuckerberg said it was not enough to give people a voice; the company needed to make sure those voices were used for good. He said it would take time to make the necessary steps to protect users information that Facebook has not been protecting sufficiently, and many months to investigate other apps.
Facebook will likely have to succeed in doing that to avoid new regs on edge providers, though he has also expressed a willingness to be regulated, so long as it is the "right kind" of regulation, signaling Wednesday he thought that was inevitable, which could explain why he was getting ahead of that by talking about how they should be regulated, not whether.
Following Zuckerberg's grilling Tuesday before the Senate Commerce and Judiciary Committees, it was the House Energy & Commerce Committee's turn to train the spotlight on Facebook.
House E&C Chairman Greg Walden (R-Ore.) has said he prefers deregulating ISPs to adding new regs to the edge, but has clearly not ruled that out, nor had many of the other members of the committee if Wednesday's hearing was any gauge.
"Facebook has grown," but it may not have matured," Walden told Zuckerberg. "It may have moved too fast and broken too many things," he added hearkening to Facebook's original slogan.
Walden said Facebooks breach of trust was troubling, and that breach "must have consequences." But he still entertained the possibility that the consequences could be the company cleaning up its own act.
Related: Senators Introduce Opt-In Edge Privacy Bill
Ranking member Rep. Frank Pallone (D-N.J.) hammered Facebook for vacuuming up data without protecting it. He cited Zuckerberg's answer to the Senators that he was not opposed to regulation. Pallone said there needed to be such comprehensive regulation. He said Facebook had allowed itself to be used as a tool to "hack our Democracy."
He said the company was either blind to the red flags or ignored them. Either way, he suggested, Congress needs act.
He also called for further hearings with other edge providers, ISPs, app developers and others Both Walden and Pallone pointed to the good that Facebook has done, jobs, including in Walden's district; helping motivate pro-social movements, and become integral in the daily lives of the nation.
Asked if Facebook was a media company, Zuckerberg said no, he thought of it as a tech company. He said Facebook has a responsibility over its content, which is what he thinks is at the heart of the question.
On the point of whether Facebook had matured, Zuckerberg said it had "grown and evolved" from the dorm-room startup.
While Facebook does not sell user data, it is probably its most valuable asset, so he asked why Facebook had not told folks just what it does with that data.
Zuckerberg said users have control and that is clear, but that it has not done a good job of explaining how advertising on the site works.
Related: Sen. Nelson Says Facebook Failed Us
Walden asked if Congress needs to intercede, but did not have time tpo get an answer.
Pallone said he does not have much faith in corporate America or their "GOP allies." He told the Facebook CEO that there needs to be legislation that provides more transparency, the lens through which he sees the issue.
Zuckerberg said Facebook limits the amount of data it collects and uses, that it is changing user privacy default settings so developers can't get as much access to data, but was not ready to commit changing those user default settings to limit as much as possible the collection of user data, saying it deserved more than the one-word answer Pallone was asking for.
Zuckerberg said people were free to port their data to other aps as part of the developer platform to allow people to share their information in different ways.
Pallone said people were not empowered enough to make those porting decisions in a "positive way."
Rep. Joe Barton (R-Tex.) asked a question submitted to him on Facebook: Why is Facebook censoring Diamond and Silk and other conservative web sites. Zuckerberg said that had been an enforcement error made by his team that is being reserved. That appeared to be a new piece of news. He also said he wanted to give people the most free expression as possible.
Rep. Bobby Rush (D-Ill.) said the government had duped people in the 60's into sharing their personal information, and he was a victim of that. He said Facebook was doing something similar, the wholesale invasion and manipulation of their basic right to privacy, likening him to former FBI chief J. Edgar Hoover.
Zuckerberg said the difference is that people can choose not to have Facebook collect info. He said he knows of no surveillance effort that allows that.
Rush shot back that Facebook was no longer a dorm-room startup, and that it now had enormous social responsibility that Zuckerberg had failed to consider.
Zuckerberg said people are pro-actively choosing to use the service, which customer-facing controls over how that data is shared.
Rush brought up the report that Facebook had allowed real estate ads to exclude African Americans from target audiences.
Zuckerberg said that option for advertisers to remove ethnic groups had been removed.
Rep. Fred Upton (R-Mich.) sounded a note of caution about regulation suggesting it could cement the position of a Facebook while hurting startups. Zuckerberg conceded that one of the things regulation can do is favor big companies, like his, while discouraging start-ups without big pockets.
Upton also raised the issue of a Facebook bias against conservative speakers, using the example of a Michigan state reps announcement of his platform for an upcoming political race, which included pro-life and opposition to "sanctuary cities." It was rejected by Facebook with the explanation that it did not accept shocking or disrespectful or violent speech. Upton read
the statement and pointed out he couldn't understand how it violated the policy. Zuckerberg said there could be a mistakethere, too.
He also told Senators Tuesday that he understood their concern about the left-leaning tendency of Silicon Valley, but that Facebook should not be vetting speech for political content.
Rep. Eliot Engel (D-N.Y.) asked about Russian influence over elections and asked if Facebook had a way to inform the government if it discovered such activity.
Zuckerberg said Facebook was deploying new AI tools to ferret out fake accounts, but did not address whether there was also a process for informing the government of any activity it discovers. He called it an arms race and could not promise it could prevent all interference.
Rep. Marsha Blackburn (R-Tenn.) asked Zuckerberg who owned the "virtual you" online. He said everyone owns their own content and that protecting privacy is a foundational corporate value.
She said Facebook will have to provide opt-in choice to guarantee the right of privacy.
Related: Zuckerberg Says He Didn't Do Enough to Prevent Fake News
Blackburn asked whether Facebook adjusts its algorithms to censor speech. He said they didn't think of what they were doing as censoring speech.
The issue is not whether Facebook adjusts its algorithms, but whether the way it does that extends beyond terrorism and racism to a definition of hate speech that incorporates political views with which some at the company disagrees. That is Republican's key concern.
Rep. Steve Scalise (R-La.) cited reports that Facebook's algorithm for its news feed was biased against conservative voices and asked if that was a corporate directive. Zuckerberg said no. Scalise asked whether he was aware of that bias, but there was not enough time for and answer. Scalise asked for one in writing, and that Zuckerberg investigate whether anyone at thecompany built a bias into the algorithm.
Rep. Diana DeGette (D-Colo.) said there needed to be robust penalties for violations of privacy, particularly Facebook violations of the FTC 2011 consent decree.
An obviously unhappy Rep. Michael Doyle (D-Pa.) pointed to the 20-year FTC consent decree and said that Zuckerberg appeared illing to "flout internal policies and government oversight when it suited him. He said the only way to close that trust gap is through legislation that will require giving a government agency rulemaking authority--something the FTC doesn't have--to oversee and protect user data.
Zuckerberg suggested that while Cambridge Analytica's access to user data was a breach of people's trust, it was not a violation of the consent decree.
Rep. Jan Schakowsky (D-Ill.) cited a long history of apologies from Facebook, which is why she said self-regulation just won't work. She cited Zuckerberg apologies from 2003, 2006, 2007, 2010, 2011, 2017, and 2018. On the subject of protections Zuckerberg said Facebook was supplying users at the point of decision, Schakwosky said: "Who is going to protect us from Facebook."
The smarter way to stay on top of the multichannel video marketplace. Sign up below.
Contributing editor John Eggerton has been an editor and/or writer on media regulation, legislation and policy for over four decades, including covering the FCC, FTC, Congress, the major media trade associations, and the federal courts. In addition to Multichannel News and Broadcasting + Cable, his work has appeared in Radio World, TV Technology, TV Fax, This Week in Consumer Electronics, Variety and the Encyclopedia Britannica.