White House Trumpets Broadband Subsidy Plans
Says it has gotten ISPs to commit to lowering high-speed costs for rural, urban residents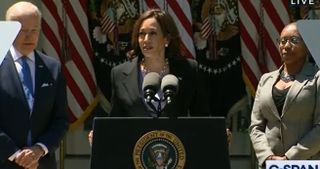 (Image credit: C-SPAN)
The White House is promoting its ongoing American Connectivity Program (ACP) with a big splash Monday, announcing that it has gotten commitments from almost two dozen private sector ISPs to lower service costs for high-speed broadband (at least 100 Mbps) for millions of rural and urban Americans, and announcing the launch of a GetInternet.gov web site on how to sign up for the government program.
The reference, in a fact sheet issued Monday, is to the Bipartisan Infrastructure Law's Affordable Connectivity Program, provides subsidies that help cut the cost of internet service by as much as $30 per month ($75 per month on tribal lands). The FCC is overseeing the $14.2 billion subsidy.
The Biden administration said Monday that it has gotten 20 large and smaller ISPs covering 80% of the U.S. to "either increase speeds or cut prices," saying "too many families go without high-speed internet because of the cost or have to cut back on other essentials to make their monthly internet service payments."
Also: FCC Won't Set Minimum Service Standards for ACP
A number of ISPs have had low-cost programs for lower-income residents for years, Comcast's Internet Essentials program for example.
"We have been working on digital equity issues for over a decade and believe this new program offers even more support to achieve those goals," Comcast Cable president David Watson said in a statement circulated by the White House. "We are proud to work together with our government and community partners to close the digital divide."
"From large providers like AT&T, Comcast and Verizon serving dozens of states, to smaller providers serving rural areas like Jackson Energy Authority in Tennessee and Comporium Communications in North Carolina, the commitments will allow tens of millions of ACP-eligible households to receive high-speed internet at no cost," said the White House.
President Joe Biden and Vice President Kamala Harris held a Rose Garden event Monday to talk up broadband connectivity and its investment in closing the digital divide.
Harris kicked off the event, which hosted ISPs, legislators, and others--including FCC Chairwoman Jessica Rosenworcel. Harris was flanked by the President and someone who was identified as having fallen behind in her studies because she did not have access to high-speed internet, but thanks to the subsidy had caught up and was going to be the first in her family to go to college..
Harris said affordability is more often the issue than availability and that everyone should be able to afford high-speed internet, no matter how little they earn.
She said more than 11.5 million had had their bills lowered thanks to the Administration subsidies and the ISPs that had answered the call to help close the digital divide, a line that drew applause from the President and the assembled audience.
President Biden thanked Harris for leading the broadband connectivity effort, then repeated the oft-cited McDonald's parking homework session example of a lack of internet connectivity.
He talked of the $65 billion broadband investment that had been made, and echoed Harris' assertion that affordability is a key barrier to connectivity.
Biden said big business had stepped up after working with the White House, and cited the 20 providers most of whom had representatives in the Rose Garden. He thanked ISPs by name, calling out AT&T and Comcast, Frontier, Spectrum and Verizon, asking them to stand and saying "Thank you, thank you, thank you."
"I want to thank the companies who are working with us to deliver this for all families," he said. "It's a big deal. And this is a great example of what we can achieve if the federal government and the private sector work together to solve serious problems.
The President said that not only have 11.5 million signed up for low-cost broadband through ACP, but thousands more are doing so each day. He even gave out a phone number--877-384-2575--for those who hadn't signed up but wanted to.
Biden also talked about the lack of broadband competition that he is working to change, including by getting rid of exclusive contracts for apartments or condos. He said 30 million Americans live where there is no broadband or with insufficient speeds.
He said the subsidy is also another tool in his toolkit to get a handle on inflation.
The ACP is requiring ISPs to allow the subsidy to apply to a wide array of broadband plans--rather than simply the lowest tier of service; implementing prohibitions on credit checks or existing debt as a bar to enrollment; prohibiting upselling or downselling; disallowing restrictions on switching providers; and helping prevent bill shock--the Emergency Broadband Benefit (EBB) that the ACP supplants was a $50-per-month boost while the ACP is only $30 (except on tribal lands).
ACP participants, says the White House, are Altice (Optimum and Suddenlink), Astound, AT&T, Breezeline, Comcast, Comporium, Cox Communications, Frontier, IdeaTek, Jackson Energy Authority, MediaCom, MLGC, Spectrum (Charter), Starry, Verizon Communications (Fios only), Vermont Telephone Company, Vexus Fiber and WideOpenWest.
Essentially the announcement was spotlighting existing efforts, rather than anything new, outside of the new website and ISPs commitments to higher speeds and lower prices.
The administration also put in a plug for the $40 billion-plus grant program being administered by the National Telecommunications & Information Administration and the Broadband Nutrition Label the FCC is overseeing, as well as the FCC decision to allow for more competition for internet service to apartments and condos.
"[T]he President's competition agenda is focused on providing Americans with more good options for internet service where they live — driving down prices and increasing the quality of service," the White House said. ▪️
The Microsoft-led coalition, Connect Americans Now (CAN), which is pushing the closing of the digital divide by any means necessary, applauded the White House.
"Connect Americans Now commends the Biden Administration's dedication to bringing affordable, reliable broadband to every American community," said CAN executive director Richard T. Cullen. "[W]e encourage President Biden and Vice President Harris to additionally affirm the administration's commitment to an all-of-the-above approach to ending the digital divide that gives states and broadband providers the flexibility needed to maximize the positive impact of federal broadband programs in communities with differing needs and challenges."
"Today's White House announcement will improve affordable access for low-income families," said Benton Institute for Broadband & Society Executive Director Adrianne B. Furniss. "In addition, the work supported by the Infrastructure Investment and Jobs Act and the American Rescue Plan that will be done in the States should ensure that affordable, robust broadband networks reach every address in the country. The commitments secured by the White House from 20 leading internet providers covering 80% of the U.S. population to either increase speeds or cut prices to make sure that ACP-eligible households get high-quality, affordable internet are small steps to the U.S. realizing full digital equity. We have a long way to go, but it is critical that the Administration continues to lead on ensuring that broadband is truly universal."
MediaJustice, which says it advocates for "a more just and participatory media" (and whose board includes a representative of net neutrality advocate Free Press), was not joining the broadbandwagon, suggesting a full complement of FCC commissioners would have been a bigger boon to connectivity.
"Instead of applauding corporations that continue to fail families needing to stay connected to healthcare, jobs, school and one another through the pandemic, President Biden should be applying pressure to Senate leadership to confirm his Federal Communications Commission nominee Gigi Sohn. While Sohn's confirmation has stalled for over six months, preventing the full functioning of the FCC, these Internet Service Providers watched their profits rise as 21 million Americans go without home broadband. These companies don't need a White House ceremony, they need the oversight and regulation that only a complete FCC can provide."
The smarter way to stay on top of the multichannel video marketplace. Sign up below.
Contributing editor John Eggerton has been an editor and/or writer on media regulation, legislation and policy for over four decades, including covering the FCC, FTC, Congress, the major media trade associations, and the federal courts. In addition to Multichannel News and Broadcasting + Cable, his work has appeared in Radio World, TV Technology, TV Fax, This Week in Consumer Electronics, Variety and the Encyclopedia Britannica.