Trump Nominates OIRA Administrator Rao As Kavanaugh Successor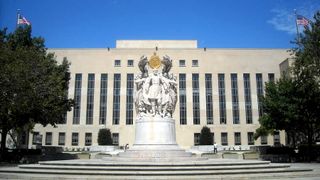 President Donald Trump said Tuesday (Nov. 13) that he planned to nominate OIRA Administrator Neomi Rao to succeed now associate Supreme Court Justice Brett Kavanaugh on the U.S. Court of Appeals for the D.C. Circuit.
That is the appeals court with principal jurisdiction over challenges to FCC decisions, like net neutrality and media ownership regulations.
According to the White House, Rao is a former law professor at the Antonin Scalia Law School at George Mason University.
Before joining the law school. Rao was associate counsel and special assistant to President George W. Bush as well as counsel to the Senate Judiciary Committee, where she helped shepherd judicial nominations, like those of Kavanaugh to the High Court.
Her resume also includes law practice in the London office of Clifford Chance LLP.
She has a BA degree from Yale and a law degree from the University of Chicago.
"As a citizen, I suppose I should be somewhat relieved that she is slightly more centrist than other Trump appointees," said veteran attorney Andrew Schwartzman, who has argued before that court."
However, in my professional capacity, I am unhappy that we are likely going to have someone on the D.C. Circuit who has such a cramped view of government's power to regulate to protect the environment, competition and consumer rights."
Randolph May, president of the Free State Foundation, was pleased with the pick.
"Neomi Rao is an excellent choice to fill the DC Circuit seat of Brett Kavanaugh," he tweeted. "Despite the fact that she's a female scholar with outstanding credentials, who happens to be of Indian-American descent, she's likely to be opposed reflexively by those who oppose any Trump nominee."
The smarter way to stay on top of the multichannel video marketplace. Sign up below.
Thank you for signing up to Multichannel News. You will receive a verification email shortly.
There was a problem. Please refresh the page and try again.