'Time' Owner Benioff: Sec. 230 Needs to Go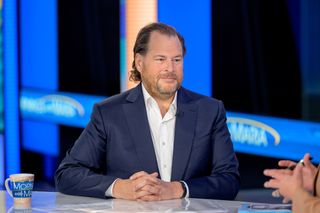 Media mogul Marc Benioff, CEO of Salesforce and relatively new owner of TimeMagazine has called for Facebook to be treated as a publisher, just like Time, saying otherwise it is just a vehicle for propaganda indemnified for that content. He also says Facebook should "absolutely" be broken up. 
Benioff, speaking at the Knight-Bagehot Awards dinner in New York Wednesday (Oct. 16)--his first appearance at a journalism dinner--said that Sec. 230 should be abolished. That is the Communications Decency Act provision that says social media sites aren't publishers subject to liability for the posts on their platforms. 
In response to questions from Rebecca Blumenstein, deputy managing editor of the New York Times, Benioff said Sec. 230 provides "a lot of air cover to a lot of organizations" and indemnifying them for the "propaganda that is on their platform."  
He said it is time to put a greater focus on trust and truth, which were not Facebook's highest values, as they are Time's. "We need to double down on the free press. We need to be committed to great journalism and the truth, or it's going to be hijacked." 
He said Sec. 230 is "just ramming a train through the middle of that, saying to some of these organizations: 'You don't have to worry.' 'You can do whatever you want.' 'It's not right.'" He said those sites were not on "the right side of history." 
Congress is currently considering whether to tighten Sec. 230's protections, though there does not yet appear to be the political appetite for getting rid of it entirely, at least according to a Hill hearing this week on the subject. 
He said the people in Silicon Valley know what is going on, and that rather than singling out Facebook when he said it was like cigarettes--which means bad for you--he was looking for a metaphor for the new tech that was all around.   
He said journalists need to expose what is happening and put more light on Big Tech. 
Asked if he was aligned with Elizabeth Warren on breaking up Facebook, he said he can't be involved with any particular candidate--dialogs, contributions. But should Facebook be broken up? "Absolutely," he said.  
He said most of the population don't know that Facebook owns WhatsAp? and Instagram and that Facebook is co-mingling and using that data." He again said it was a moment to wake up, double down and follow the truth.  
The smarter way to stay on top of the multichannel video marketplace. Sign up below.
Thank you for signing up to Multichannel News. You will receive a verification email shortly.
There was a problem. Please refresh the page and try again.