Temple: Satellite Distant Signal License Should Be Doomed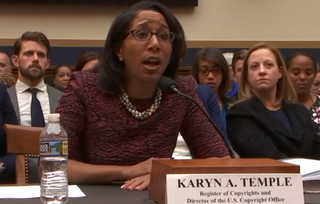 The new head of the Copyright Office, Register of Copyrights Karyn Temple, was emphatic in her assertion that the Sec. 119 compulsory license that allows satellite operators to deliver distant TV network signals without negotiating with broadcasters has outlived its usefulness and needs to go.
Related: Temple Tapped as Head of Copyright Office
The license is up for renewal at the end of the year as part of the STELAR Act, with MVPDS arguing it should be renewed and broadcasters that it should go away.
That was among a host of issues Temple addressed, and was queried on, in a House Judiciary oversight hearing Wednesday (June 26). Others included blanket music licensing, video streaming piracy and the notice and takedown regime for suspect online content.
Judiciary shares jurisdiction over STELAR and other video licensing issues with House Energy & Commerce.
Temple also put in a plug for a copyright small claims court so that individual artists without deep pockets could still work within the system to protect their content.
Related: House Makes First Pass at STELAR
Rep. Hank Johnson (D-Ga.) pressed Temple on the Copyright Office's (longstanding) support for sunsetting the distant-signal license created in the STELAR Act. That allows satellite operators to import a distant network affiliate signals (from L.A. and New York), when a local market lacks one for a number of reasons, including that the satellite operator--in this case DirecTV--does not deliver any local stations in a market, or a market lacks one of the Big Four affiliates. DISH delivers local stations in all markets, but DirecTV does not in about a dozen markets.
Johnson asked how that would impact the 800,000 who still get distant TV station signals via that license.
She pointed to the different ways to get content, YouTube, streaming services. But Johnson said that given that broadband is not yet available in the "far reaches" of the county, that still posed a problem.
Temple said that while satellite operators, who want to keep the license, cited those 800,000, she also pointed out that the use of the license had dropped precipitously and it was not clear the 800,000 figure was households and could include RVs and other types of entities (the license covers truckers and sports stadium tailgaters as well). She said she did not think there would be significant harm to rural communities if the license were allowed to expire (as broadcasters want).
But Temple was not done having to defend that position. Rep. Veronica Escobar (D-Tex.) pressed her on whether maintaining the license would somehow be a burden on the office or deflect it from other issues, like an IT upgrade all agreed was needed.
Escobar did not address that directly, but again said the the license had reached the limit of its effectiveness. She said the office would certainly continue to enforce the license and collect the royalties--which have dropped by 85%-99% in recent years. But that given that drop in royalties and rise in alternative viewing options, she did not see the license as being effective. She said the compulsory license, which prevents a copyright holder from negotiating individually for their work product--should only be used when there is market failure. Since there is no more market failure, she said, it should go away.
Rep. Debbie Lesko (R-Wis.) said she was concerned about those truckers and RV users and asked what their options would be and whether the office had considered grandfathering them.
Temple said said once again that given the disnificant drop in usage of the license, there would not be a significant market harm to rural communities and that the free market, rather than a compulsory license, will take care of the issue.
Lesko asked the committee's chair, Jerrold Nadler (D-N.Y.) to keep those 800,000 in mind, even if that was a relatively small number. She said that when the service is taken away, she assumed they would not be happy.
On the issue of artists without lots of money for legal fees not having equal access to copyright protection, Temple pointed out that the Copyright Office has provided support over the past few years (as far back as 2006) for a small claims "tribunal" within the office. She said that the "costs and burdens of federal copyright litigation effectively prevent those who do not have extensive resources and the high‐dollar cases from bringing suit to enforce their rights or to obtain a declaratory judgment of non‐infringement."
During her questioning, Rep. Zoe Lofgren (D-Calif.) asked if Temple would be willing to look at the issue of blanket licenses, where broadcasters have to pay all four music licensing organizations, as the office looks at music licensing consent decrees--Lofgren said that that blanket license regime was complicated and expensive for broadcasters. Temple said she would definitely be willing to look at that issue if Congress wanted her to.
One thing Congress did want the Copyright Office to look at is how the Digital Millennium Copyright Act (DMCA) notice and takedown regime for suspect online content was functioning.
Asked when a required Copyright Office report to Congress would be coming out on that DMCA Sec. 512 regime, she said the office would be drafting the report over the summer and hoped to have it ready by the end of the year. But she also pointed out that there were some 90,000 comments to review, as well as input from a recent roundtable on the issue. She agreed with Rep. Ben Cline (R-Va.), who asked about the report, that a lot has changed since the regime was instituted.
Cline pointed out that video streaming piracy costs jobs and billions of dollars and asked what the office was doing about it.
Temple pointed out that it was not an enforcement agency, but advocated for strong protections, which was a reason that for the past several years it has proposed that Congress make illegal streaming a felony. Currently, while distributing pirated copies of videos is a felony, streaming them is not. She said toughening the penalty for streaming was one thing Congress could to to help stem online video piracy.
The smarter way to stay on top of the multichannel video marketplace. Sign up below.
Contributing editor John Eggerton has been an editor and/or writer on media regulation, legislation and policy for over four decades, including covering the FCC, FTC, Congress, the major media trade associations, and the federal courts. In addition to Multichannel News and Broadcasting + Cable, his work has appeared in Radio World, TV Technology, TV Fax, This Week in Consumer Electronics, Variety and the Encyclopedia Britannica.