Supremes Probe Decision on Comcast Carriage Lawsuit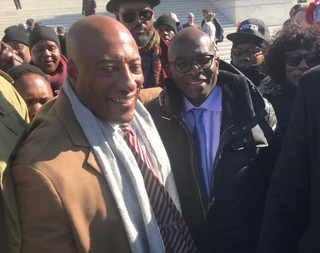 The Supreme Court heard argument Wednesday in the case of Comcast vs. the National Association of African American-Owned Media.
Comcast is challenging a court decision reinstating a suit spearheaded by Entertainment Studio's chief Byron Allen against Comcast for allegedly discriminating in its noncarriage of networks and rejecting Comcast's motion to dismiss the suit.
The central issue is whether a discrimination claim can be made if a decision included race as a factor but was ultimately made for other, non-related, business reasons that had nothing to do with race. The Ninth Circuit Court of Appeals said it could be and declined to stop the suit from going to trial, which it has not yet.
Arguing for Comcast, attorney Miguel Estrada said that the court had erred and that race must be the "but for" cause of the decision to be discrimination not simply a factor.
Justice Elena Kagan pointed out that the Allen and company complaint was still in the initial stages, before discovery and fact finding. "So I think as long as you have enough in [a] complaint to show racial animus and a reasonable inference can be drawn that that's a but-for cause, I think a plaintiff has done more than enough....What you seem to be suggesting is that they're required to anticipate every potentially independent reason," she said.
No, said Estrada, what he was saying was that "a plaintiff is required to allege facts, not conclusion recitation of the elements of the offense, that plausibly give rise to the inference."
Arguing for the Justice Department in support of Comcast, Morgan Ratner weighed in on Kagan's point, saying the plaintiffs (Allen and the National Association of African American-Owned Media) were arguing that race as a motivating factor, rather than a determination factor, in a business decision was sufficient, and that the Ninth Circuit's agreement with that was wrong per prior court precedent.
Justice Stephen Breyer suggested Allen's side had done enough to warrant the lower court letting the discrimination complaint go to trial. "[T]hey have some evidence, and the evidence is, on information and belief, [that they] think that the Defendant here [Comcast] used race improperly to deny us the contract. Then they list it. And who cares whether they say it was a motivating factor or whether they say it was a but-for?"
Justice Brett Kavanaugh suggested it would have been unusual to toss a complaint "with paragraph after paragraph of allegation like this" in its initial stage.
Chief Justice John Roberts also suggested that it might be tough to distinguish between racial animus that did not factor into the final business decision, from animus that continued, even if it only manifested itself in one stage of the process.
Arguing for Allen, Erwin Chemerinsky said "if race is used as a motivating factor
in denying a contract, then there is not the same right with regard to contracting."
Lending a hand, Justice Sonya Sotomayer asked if what he was saying was that "if you plead [race as] motivating factor, that that's enough to survive at a pleading stage?"
"Exactly," said Chemerinsky. He conceded that, at trial, they would need to prove "but for" causation, which means that but for the racial discrimination, Comcast would have carried the networks. After some probing by Roberts, Chereminsky phrased it: "[I]f the complaint is plausible that race was a motivating factor, that should be enough to withstand the motion to dismiss."
Chereminsky said that "the position that the opposing counsel has taken is that the complaint has to deny all alternative explanations."
Related: Rep. Rush Slams Comcast Over Byron Allen Suit
Allen and the National Association of African American Owned Media brought the suit in 2015, claiming damages of $20 billion. A federal court dismissed the suit three times, but the decision was reversed by the U.S. Court of Appeals for the Ninth Circuit a year ago. Comcast wants the Supreme Court to reverse the Circuit Court decision, disputing Allen's claims of a "vast conspiracy" to keep his networks off.
Related: Supreme Court Will Hear Discrimination Suit
"As today's Supreme Court hearing demonstrated, this case centers on a narrow, technical point of law that will not in any way lessen the nation's civil rights laws," said Comcast in a statement. "Comcast believes that the civil rights laws are an essential tool for protecting the rights of African-Americans and other diverse communities —and this case will not change those protections. Our advocacy was limited to urging that section 1981 in our case be interpreted the same way it has been interpreted for decades across the country. We are optimistic the Court will reverse the incorrect 9th Circuit decision and, in light of the trial court's dismissal three separate times of these discrimination claims, bring this case to an end. Comcast has a strong civil rights and diversity record and an outstanding history of supporting and fostering diverse programming from African-American owned channels."
"We won big time," countered Allen comments to Multichannel News after the argument. Allen said the justices made it clear that they thought "motivating factor" should be the standard for going to trial. "They made it clear that this case should abolutely go forward," he said, "which is Comcast's worst nightmare."
"What we did today was punch Comcast in the face and tell them they can't take my lunch money," he said, "and I'm going to keep punching."
As to the Justice Department joining Comcast in the oral argument, Allen said it was a case of "walking into the courtroom to narrow civil rights," but signaled he thought the court would no go along and that he would be able to prevent his evidence that Comcast carrier plenty of white-owned nets that were lower-rated and had not earned the Emmy nominations and wins of his networks.
To check out the oral argument transcript, go here.
The smarter way to stay on top of the multichannel video marketplace. Sign up below.
Contributing editor John Eggerton has been an editor and/or writer on media regulation, legislation and policy for over four decades, including covering the FCC, FTC, Congress, the major media trade associations, and the federal courts. In addition to Multichannel News and Broadcasting + Cable, his work has appeared in Radio World, TV Technology, TV Fax, This Week in Consumer Electronics, Variety and the Encyclopedia Britannica.