Supremes Decision Could Give Tech a New Edge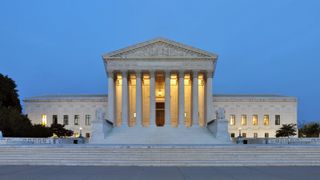 WASHINGTON — A Supreme Court decision dealing with credit card merchant fees has dealt a blow to antitrust enforcement in general, according to its critics, some of whom say it will decrease antitrust curbs on big tech companies and allow them to be the price regulators of their own markets.
The June 25 ruling comes at a time when edge providers are under increasing scrutiny from bipartisan members of Congress looking to ramp up such curbs.
Related: Delrahim Says Antitrust Can Still Get at New Business Models
Dissenting justices in the 5-4 decision appeared to agree on the antitrust impact, saying that the ruling allows a company "to demand contractual protection from price competition."
The case was Ohio v. American Express, and the court ruled that American Express's attempts to keep merchants from discouraging use of Amex cards, and thus saving the Amex merchant card fees over competitors with lesser merchant fees, was not a violation of antitrust.
The decision upheld a ruling by the 2nd U.S. Circuit Court of Appeals, which had overturned a district court decision.
It was another antitrust court defeat for the federal government (joined by some states), which had argued that Amex's anti-steering (nondiscrimination) provisions in contracts with merchants violated the antitrust. Justice also recently lost its challenge to the AT&T-Time Warner merger.
Related: AT&T, Time Warner Cleared to Merge
Sandeep Vaheesan, policy counsel at the Open Markets Institute (OMI), said that for antitrust plaintiffs, "the new legal burdens further reduce the already slim chances of success in court. The costs and complexity plaguing antitrust litigation will only become significantly worse following [the] decision."
The court said Amex's policy of preventing merchants from steering customers to other cards without fees did not unreasonably restrain trade. In fact, they said, anti-steering provisions "can prevent retailers from free-riding and thus increase the availability of 'tangible or intangible services or promotional efforts' " that enhance competition and consumer welfare.
"Perhaps most importantly, anti-steering provisions do not prevent Visa, MasterCard or Discover from competing against Amex by offering lower merchant fees or promoting their broader merchant acceptance."
Writing for the four dissenting liberal justices, Steven Breyer, Ruth Bader Ginsburg, Sonya Sotomayor and Elena Kagan, Breyer wrote that the majority decision was contrary to basic antitrust law and ignores evidence from the district trial.
"If American Express's merchant fees are so high that merchants successfully induce their customers to use other cards, American Express can remedy that problem by lowering those fees or by spending more on cardholder rewards so that cardholders decline such requests," Breyer wrote. "What it may not do is demand contractual protection from price competition."
Party-Line Ruling
If that is how the anti-steering provisions work, then yes they can, according to the majority, which obviously did not see it that way.
"U.S. law has traditionally viewed credit card corporations (such as American Express) and communications corporations (like AT&T) as intermediaries and facilitators of other people's business," OMI said. "This decision, however, establishes these platforms as de facto regulators of these markets."
Gene Kimmelman, CEO of Public Knowledge, said the decision will "open the door for communications and internet platforms to continue building dominant market positions virtually impenetrable to innovation from smaller competitors." It puts an exclamation point on the need for Congress to step in, given that it will make it "significantly" tougher to police tech platforms for antitrust, he added.
The smarter way to stay on top of the multichannel video marketplace. Sign up below.
Thank you for signing up to Multichannel News. You will receive a verification email shortly.
There was a problem. Please refresh the page and try again.