STELAR Unlikely to Achieve Major Reforms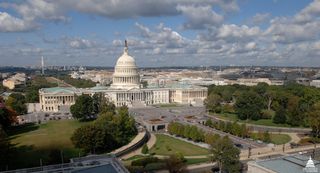 WASHINGTON — Like a five-year locust or Brigadoon on a shortened appearance schedule, the renewal of the STELAR bill is on the congressional agenda, with a deadline of year-end or the law renewing the compulsory license regime will sunset for good.
STELAR, the law formerly known by a half-dozen different names, renews for five years the compulsory license that allows satellite-TV operators to import distant network signals to subscribers who can't receive a local version. It also sunsets the Federal Communications Commission's ban on integrated set-tops, makes several retransmission-consent reforms and reauthorizes the FCC's ability to enforce good-faith retransmission consent negotiations.
Cable operators have traditionally used STELAR reauthorization as the vehicle to get Congress to move the FCC toward tougher rules regarding station blackouts, including making them de facto bad-faith negotiations. That's a move both Democratic and Republican FCC chairs have been reluctant to make.
Cable Notched Wins Last Time
Last time around, cable operators did score some victories and they'll be looking for more.
STELAR prevented coordinated retrans negotiations among non-commonly owned TV stations in a market, expanding on an earlier FCC decision to disallow coordinated efforts among the top four stations in those markets. It also prevented broadcasters from blocking the importation of significantly viewed stations into their markets.
Preston Padden, currently of the C-Band Alliance and a former top ABC and DirecTV executive who has long pushed for eliminating the blanket license, is continuing to sound that call.
"The [Rep. Steve] Scalise [R.-La.] bill gets it right — repeal both the compulsory copyright licenses and retrans, creating a world where broadcasters and programmers get paid based on market forces," he said, adding that both would need to happen. "It would be a travesty to repeal only retrans."
"The Satellite Home Viewer Act should be made permanent once and for all, so rural satellite consumers and retailers are on a level playing field with cable companies," Satellite Broadcasting & Communications Association president Steven Hill told Multichannel News last fall, when the SBCA started doing the groundwork for that push. House Democrats will likely have an appetite to step in on must-carry, retransmission consent and other issues.
Rep. Anna Eshoo (DCalif.) is on the record as saying escalating retrans fees and blackouts are consumer unfriendly. But she has also taken aim at cable and satellite providers, introducing the True Fees Act, which would require multichannel video programming distributors and phone companies to be above board about below-the-line fees by telling consumers all charges in advertised prices, in part to prevent "arbitrary price hikes" on equipment fees.
One MVPD lobbyist speaking not for attribution said they expected the True Fees Act to be in play, but not expect seismic shifts in policy.
The lobbyist says to figure on Democrats trying to use STELAR to make some media ownership changes broadcasters won't like, eliminating the UHF discount along with slightly raising the national ownership cap, for example, or tightening the restriction on ownership of the top four TV stations in a market.
The FCC loosened the restriction last year, allowing for a case-by-case review, though it still presumes such combinations were not in the public interest.
Nexstar-Tribune Review in Background
As for any major overhaul of restrans or sun-setting the license entirely, the MVPD lobbyist does not see that in the cards, despite bipartisan talk from Eshoo and Scalise that the time is ripe. "I think this year will likely play out like all years before: There will be incremental changes to the retrans laws (and very minor changes to the statutory license) to reflect the evolving marketplace as part of a five-year renewal," the lobbyist said.
The FCC is currently reviewing what, if any, changes to make to the local ownership rules, so any STELAR-related reforms would trump that, though FCC chairman Ajit Pai might hold off on a decision this year, given that Nexstar Media Group-Tribune Media merger is pending, and wait to see what, if anything, Congress will do.
A top Democratic Hill aide agreed STELAR is unlikely to be the vehicle for major changes to either retrans or the statutory license.
Eshoo and Scalise don't appear to be breaking any new ground and other Democratic members are rattling STELAR sabers, but that could change, they said.
Sen. John Thune (R-S.D.) received broadcaster blowback last time around for proposing the Local Choice Act, which would allow MVPD subs not to pay for TV-station signals, essentially deep-sixing the retransmission-consent regime. But broadcasters fought back hard and nothing materialized. Odds are such a proposal would meet the same fate were it introduced this time around.
The smarter way to stay on top of the multichannel video marketplace. Sign up below.
Contributing editor John Eggerton has been an editor and/or writer on media regulation, legislation and policy for over four decades, including covering the FCC, FTC, Congress, the major media trade associations, and the federal courts. In addition to Multichannel News and Broadcasting + Cable, his work has appeared in Radio World, TV Technology, TV Fax, This Week in Consumer Electronics, Variety and the Encyclopedia Britannica.
Thank you for signing up to Multichannel News. You will receive a verification email shortly.
There was a problem. Please refresh the page and try again.