Sen. Kennedy: FCC Should Hold Public Auction of C-Band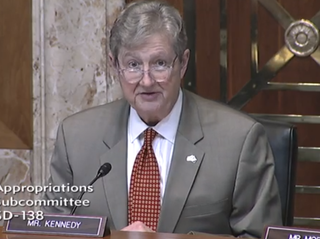 Sen. John Kennedy (R-La.), the colorful chairman of the Senate Financial Services Subcommittee, lit into the FCC Thursday (Oct. 17) for even considering private spectrum deals with foreign owned satellite companies, which say they can free up C-Band spectrum for 5G faster than an FCC auction.
That came in an oversight hearing on the FCC's spectrum auctions, usually the province of the Senate Commerce Committee but on point with Financial Services because some of the money--up to $60 billion for C-band Kennedy pointed out--that the FCC raises through those auctions goes to the Treasury.
He went further, saying he didn't think a private sale of the spectrum was legal.
Related: Affils Give FCC Earful on C-Band
Kennedy told FCC chair Ajit Pai, who was testifying at the hearing, that his mind could be changed, but he was currently biased for a public auction so that the American taxpayer, not "Luxembourg" (where some of the satellite operators are based) should reap the profits from repurposing some of the band for 5G. He pointed out that the C-Band auction could generate up to $60 billion and what it could buy if it went to the Treasury rather than Luxembourg.
As to the legality, Pai said FCC lawyers were looking into that.
Pai told the committee that the FCC favored a market-based approach, but that meant flexibility rather than top-down government mandates, suggesting it definitely did not necessarily favoring private deals over public auctions. In fact, he pointed out that the FCC had held some 93 spectrum auctions in the past 25 years.
He agreed those auctions had definitely benefited the taxpayers, returning $116.5 billion in revenue for the Treasury. Kennedy recognized the FCC's good work in the auction department, and Pai returned the compliment for the Committee's support of those auctions.
On the C-Band, Pai has said he hoped to have a way forward by year's end, but told the committee he has made no final decision yet on what that will be.
He said it would have to meet four goals: 1) Make "significant" spectrum available for 5G, 2) do it quickly, 3) generate revenue for the government, and 4 insure incumbent services (notably cable and broadcast network programming) will continue to get delivered to consumers.
Kennedy, during his opening questioning of Pai, asked who owned the C-Band, a strategic American asset. Pai said it was the American people. Kennedy hammered home the fact that foreign-owned satellite companies controlled the spectrum. He asked "why in god's name" would the U.S. allow them to oversee the reallocation of the spectrum to 5G companies and keep most of the money.
Pai simply said the FCC was evaluating that proposal--which had been billed as a "win-win"--according to his four principles, including speed and not just revenue to the Treasury.
Kennedy asked whether the C-Band Alliance (CBA), which comprises most of those foreign satellite operators, may have already pre-sold the spectrum, which is why they have said they could get the spectrum turned over to 5G faster. Pai said he did not know.
The senator said the only argument he has heard for favoring the CBA proposal is that it would get the spectrum repurposed relatively quickly, while it could take the FCC seven years. He asked what Pai's estimate was, but clearly thought the government ought to be able to move faster than that.
Pai said perhaps it might take only two to three years, but that he could not say it would not be seven, either, or provide a firm estimate given the incumbents in the band--he said it would be much easier if it were greenfield (unused) spectrum.
Kennedy asked if Pai could call in all his auction people and say it needs to be within three years, with a bonus for getting it done. Kennedy said that if anyone said it would take seven years, "fire them."
Kennedy said the FCC had already wasted two years--he upgraded that to "taken" later in the hearing--about freeing it up.
Pai countered that the issues were complicated and the FCC needed to understand the full range of issues while making sure that the broadcast and cable content being delivered via the band was not put at risk.
Kennedy suggested a private deal would be subject to litigation "out the wazoo," which could remove the argument that the private sale would be faster would go away since it would take years and likely go to the Supreme Court. Pai said the FCC was taking the litigation risks into account, in addition to whether there was any security risk in a reallocation overseen by foreign companies.
Kennedy asked what would happen if those foreign companies had pre-sold the spectrum to, say suspect Chinese telecom Huawei. Pai said he would also be concerned.
Pai said he would keep Congress informed on when the FCC would come up with its C-Band plan, which he said should be in the next couple of months.
Kennedy said he was thinking about holding a second hearing and calling FCC auction staffers to testify so he could ask them straight out how long it would take.
Contributing editor John Eggerton has been an editor and/or writer on media regulation, legislation and policy for over four decades, including covering the FCC, FTC, Congress, the major media trade associations, and the federal courts. In addition to Multichannel News and Broadcasting + Cable, his work has appeared in Radio World, TV Technology, TV Fax, This Week in Consumer Electronics, Variety and the Encyclopedia Britannica.
Thank you for signing up to Multichannel News. You will receive a verification email shortly.
There was a problem. Please refresh the page and try again.