Robocall Bill Approved in House Communications Subcommittee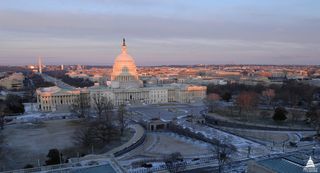 The House Energy & Commerce Committee Communications Subcommittee has approved an omnibus robocall bill.
The bill is actually now five bills, with four other bills combined with the base bill and approved by voice vote in a markup Tuesday (June 25).
The umbrella bill is H.R. 3375, the "Stopping Bad Robocalls Act, which was amended with the addition of four other bills. The base bill would require carriers to adopt call authentication, something the FCC has urged but did not mandate in a recent vote to clarify that carriers can block unwanted robocalls by default.
The four added bills were:
The Ending One-Ring Scams Act of 2019 (HR 3264), which "requires the Federal Communications Commission (FCC) to initiate a proceeding to protect consumers from one-ring-scams, including by working with foreign governments on these scams and by incentivizing carriers to stop calls made to perpetrate one-ring scams, among other things.
The Locking Up Robocallers Act of 2019 (H.R. 3325) that "requires the FCC to submit evidence of certain criminal robocall violations to the Department of Justice for criminal prosecution and requires the FCC to publish an annual report disclosing how frequently the FCC submitted such evidence."
The Tracing Back and Catching Unlawful Robocallers Act (H.R. 3434), that "requires the FCC to register a consortium of companies engaged in private-led efforts to trace back the origin of suspected unlawful robocalls and creates a certification process for when carriers have or have not participated in a private-led effort to traceback the origin of a suspected unlawful robocall. It also requires the FCC to publish a report on carriers participation in private-led efforts to traceback the origin of suspected unlawful robocalls, and allows the FCC to permit some carriers to not accept calls from carriers facilitating suspected unlawful robocalls among other things."
The Spam Calls Task Force Act of 2019 (H.R. 721), which "requires the Attorney General, in consultation with the FCC, to convene an interagency working group to study the enforcement of the Telephone Consumer Protection Act (TCPA). Among other things, the task force shall: (1) determine how federal law and budgetary constraints inhibit enforcement of the TCPA; (2) identify existing and additional policies and programs to increase coordination between federal departments and agencies and the states for enforcing and preventing violations of the TCPA; and (3) identify existing and potential international policies and programs to improve coordination between countries in enforcing the TCPA and similar laws."
The bills now go to full committee for vetting.
The smarter way to stay on top of the multichannel video marketplace. Sign up below.
Thank you for signing up to Multichannel News. You will receive a verification email shortly.
There was a problem. Please refresh the page and try again.