Reps. Eshoo, Scalise Call on Nexstar, AT&T to End Blackout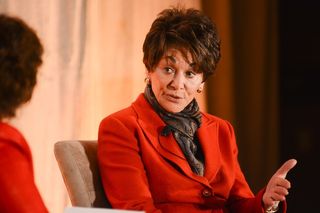 Reps. Anna Eshoo (D-Calif.) and Republican Whip Steve Scalies (R-La.), who have both long called for an overhaul of the retransmission consent system, have called for an end to the Nexstar/DirecTV retrans impasse. 
That came in a letter Tuesday (July 16) to the heads of Nexstar (Perry Sook) and DirecTV parent AT&T (Randall Stephenson). 
The blackout is entering its second week. 
Related: Nexstar Stations Overstate Hill Blackout Letters 
The legislators, who said they would be teaming up to introduce legislation to fix the "broken system," said they hoped the two companies will work "in good faith" to resolve the blackout ASAP.  
The companies are actually under a congressional and FCC mandate to negotiate in good faith. 
The tone of the letter was cordial and, in fact, talked more about the process writ large and said blackouts were a symptom of the larger problem, "outdated and ineffective laws" that harmed consumers and hampered innovation and that they pledged to fix in the near future. 
The legislators took the opportunity to ask the companies to support pending legislation, but in the meantime, said they should continue their "good faith" negotiations. 
The two sides met over the weekend but no resolution was forthcoming.
The smarter way to stay on top of the multichannel video marketplace. Sign up below.
Thank you for signing up to Multichannel News. You will receive a verification email shortly.
There was a problem. Please refresh the page and try again.