Trump Administration Sues 'Unlawful Monopolist' Google
Alleges anticompetitive use of search, ad revenues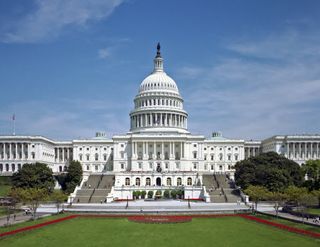 (Image credit: Capitol)
The Justice Department filed its expected antitrust lawsuit against Google Tuesday (Oct. 20), joined by 11 states attorneys general. It called the company an illegal monopoly and vowed to "remedy the competitive harms."
The states are Arkansas, Florida, Georgia, Indiana, Kentucky, Louisiana, Mississippi, Missouri, Montana, South Carolina, and Texas.
Justice likened the suit to the iconic antitrust actions against AT&T and Microsoft.
Justice charges Google with "unlawfully maintaining monopolies through anticompetitive and exclusionary practices in the search and search advertising markets," including by using ad revenues to anticompetitively pay phone manufacturers, carriers and others to keep Google as their default search engine.
"Today's lawsuit by the Department of Justice is deeply flawed," said a Google spokesperson. "People use Google because they choose to -- not because they're forced to or because they can't find alternatives."
The antitrust suit, which was filed in the U.S. District Court for the District of Columbia, said Google acted anticompetitively by:
'Entering into exclusivity agreements that forbid preinstallation of any competing search service.
"Entering into tying and other arrangements that force preinstallation of its search applications in prime locations on mobile devices and make them undeletable, regardless of consumer preference.
"Entering into long-term agreements with Apple that require Google to be the default – and de facto exclusive – general search engine on Apple's popular Safari browser and other Apple search tools.
"Generally using monopoly profits to buy preferential treatment for its search engine on devices, web browsers, and other search access points, creating a continuous and self-reinforcing cycle of monopolization."
"Google has foreclosed any meaningful search competitor from gaining vital distribution and scale, eliminating competition for a majority of search queries in the United States," Justice alleges, and [b]y restricting competition in search, Google's conduct has harmed consumers by reducing the quality of search (including on dimensions such as privacy, data protection, and use of consumer data), lessening choice in search, and impeding innovation."
"Today, millions of Americans rely on the Internet and online platforms for their daily lives. Competition in this industry is vitally important, which is why today's challenge against Google — the gatekeeper of the Internet — for violating antitrust laws is a monumental case both for the Department of Justice and for the American people," said Attorney General William Barr of the announced suit. "Since my confirmation, I have prioritized the Department's review of online market-leading platforms to ensure that our technology industries remain competitive. This lawsuit strikes at the heart of Google's grip over the internet for millions of American consumers, advertisers, small businesses and entrepreneurs beholden to an unlawful monopolist."
"As with its historic antitrust actions against AT&T in 1974 and Microsoft in 1998, the Department is again enforcing the Sherman Act to restore the role of competition and open the door to the next wave of innovation—this time in vital digital markets," said Deputy Attorney General Jeffrey A. Rosen.

The search giant has long been in the Washington spotlight, dating back at least to hearings under then Senate Commerce chairman Jay Rockefeller (D-W. Va.), over its monopoly, either natural or unnatural, over online search and allegations it disadvantaged competitors.
Justice, the FTC and Congress have all been investigating Big Tech, including Google, over how it got that way and how that vast power is used.
In a separate announcement, New York Attorney General Letitia James and the attorneys general of Colorado, Iowa, Nebraska, North Carolina, Tennessee, and Utah said they will continue their separate investigation into Google, which should be wrapping up in the 'coming weeks,' said James' office.
"If we decide to file a complaint, we would file a motion to consolidate our case with the DOJ's. We would then litigate the consolidated case cooperatively, much as we did in the Microsoft case," she said, adding that a multistate antitrust investigation into Facebook continues.
Related: Senate Dems Want Confirmation of Big Tech Investigations

While ISPs used to be Washington's favorite regulatory target as alleged gatekeepers, edge players have taken over the spotlight over issues like search and privacy and content moderation.

Related: Hill Ponders Taking Tougher Stance on Tech

President Donald Trump, who said Silicon Valley is out to un-elect him, had signaled Monday (Oct, 19) that some kind of lawsuit against The Edge was imminent.
The President's signaling of a lawsuit came after he was asked about Sec. 230 issues., but on Tuesday Barr said the Google suit was a separate issue from the government's concerns about online platform's Section 230 immunity from civil liability over their treatment of third-party content.
"The complaint filed today against Google is based on violations of the U.S. antitrust laws and is separate and distinct from concerns raised about content moderation and political censorship by online platforms," said Barr.
Barr also signaled the suit did not close the book on the department's investigation of Big Tech and antitrust. "This is an important milestone, but not the end of our review of market-leading online platforms,' he said. "The Department will continue to vigorously investigate and enforce the antitrust laws where appropriate to protect and promote competition in the digital economy for the benefit of the American consumer."
"Today's lawsuit is the most important antitrust case in a generation," said Sen. Josh Hawley (R-Mo.), one of Big Tech's biggest critics. "Google and its fellow Big Tech monopolists exercise unprecedented power over the lives of ordinary Americans, controlling everything from the news we read to the security of our most personal information. And Google in particular has gathered and maintained that power through illegal means. That is why I launched a sweeping antitrust investigation of Google when I was Missouri Attorney General, and that's why I stand behind the Department of Justice's actions today. But to be clear - this is just a first step, and I will continue to fight for the legislative solutions needed to end the tyranny of Big Tech."
Not surprisingly, computer companies were not happy with the announcement.
"One reason the U.S. technology sector is the envy of the world is antitrust policy that encourages dynamic markets that reward innovators and disrupt sluggish competitors," said Computer & Communications Industry Association president Matt Schruers. "It cannot escape notice that this suit was hurried out on the eve of an election where the Administration has aggressively pressured tech companies to take actions in its favor. Antitrust law should be driven by consumers' interests, not political imperatives. We look forward to a court's review of the facts and the evidence."
The smarter way to stay on top of the multichannel video marketplace. Sign up below.
Contributing editor John Eggerton has been an editor and/or writer on media regulation, legislation and policy for over four decades, including covering the FCC, FTC, Congress, the major media trade associations, and the federal courts. In addition to Multichannel News and Broadcasting + Cable, his work has appeared in Radio World, TV Technology, TV Fax, This Week in Consumer Electronics, Variety and the Encyclopedia Britannica.