Pai Signals New Rulemaking on 5.9 GHz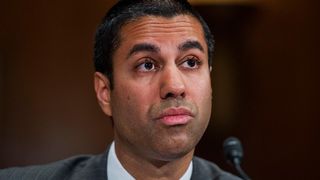 FCC Chairman Ajit Pai has signaled the FCC can't keep kicking a longstanding spectrum issue down the road any longer, a road that could soon be filled with connected cars wanting to communicate.
Pai has signaled he will open a new rulemaking on how to best use the 5.9 GHz band currently the home of a vehicle-to-vehicle (V2V) communications technology that may have been overtaken by time and technology.
In a speech to the Wi-Fi World Congress--Wi-Fi proponents including cable operators have been hankering to at least share that 75 MHz of beachfront midband spectrum for years, but have met with pushback from the V2V incumbents--Pai said: "Given the swirl of the debate and the vast technological changes that have occurred since the Commission allocated the 5.9 GHz band 20 years ago, I believe that the time has come for the FCC to take a fresh look at this band. We should open up a rulemaking proceeding, seek comment on various proposals for the band's future, and use the record that we compile to make a final decision on how the band should be allocated."
Related: NCTA Tells FCC It's Time to Get Moving on 5.9 GHz
"We welcome Chairman Pai's call for action that would take a fresh look at the 5.9 Ghz band and consider how to best supercharge America's Wi-Fi networks," said NCTA-The Internet & Television Association. "As we've noted, the 5.9 Ghz band is the best spectrum band available that can help fulfill our promise of delivering gigabit Wi-Fi and move us closer to achieving the important national goal of delivering ubiquitous broadband to all Americans."
NCTA has argued that the 75 GHz set-aside has proved a waste of government money and an experiment that failed.
Pai said among the choices for the spectrum are sticking with the (V2V reserved) status quo does not sound like a good option. He said while three might still be a case for the Dedicated Short Range Communications 9DRSC) communications the auto companies itnitially planned to use that spectrum for, DRSC has been stuck in neutral while Wi-FI has hit the gas. But he did not rule out DSRC entirely, which squares with Roberts Rules of Regulatory Order, which is not to signal you are prejudging and issue or potential decision about to be put out for public input.
The FCC has completed initial testing that showed that WiFi devices could peacefully coexist with DSRC if that technology does eventually come into wide use for vehicle-to-vehicle communications.
The FCC could also allocated it to the new C-V2X V2V technology, or allow for sharing between unlicensed Wi-Fi devices--computers, smart phones, IoT devices--and V2V in the lower 45 MHZ, while reserving the upper 30 MHz exclusively for V2V, or allocate all 75 GHz to unlicensed.
There is a lot of money riding on the decision. Pai pointed to a Rand study that said opening the 75 Ghz to Wi-Fi could add as much as $110 billion annually to the U.S. GDP.
"We can't keep kicking this can down the road," said Pai. "This valuable mid-band spectrum is largely lying fallow, and it has been so for two decades now—just as the Internet has gone from dial-up modems to gigabit Wi-Fi. Given this, inertia isn't a responsible thing for policymakers to indulge. It is time to launch a comprehensive review of the future of the 5.9 GHz band, make a sober assessment of the facts, and then make a timely decision on the best way forward."
There has been a years-long tussle between cable ops relying on Wi-Fi for their mobile broadband play and auto makers—and some government agencies—trying to defend their V2V turf for future safety systems.
Cable ops need more Wi-Fi spectrum to deploy gigabit speeds beyond the router—so that consumers get the benefit—so NCTA is checking the couch cushions for more unlicensed spectrum.
Claude Aiken, president of WISPA, tweeted his support.
[embed]https://twitter.com/ctaiken/status/1128387566401740800[/embed]
"Chairman Pai is right: there has been no new spectrum for Wi-Fi in the key mid-bands since 2003, but in that time, Wi-Fi has become the lifeblood of our wireless economy, and carries the majority of all internet traffic," said Wi-Fi forward. "WiFi is used for everything from medical telemetry and connected learning, to billions of dollars in secure financial transactions and critical machine communications. As Americans depend on more and more connected devices, they will increasingly look to Wi-Fi to power these crucial services and their 5G future.
"Because of this, we are pleased to hear of the Chairman's plan for forward motion in the 5.9 GHz and 6 GHz bands. We look forward to hearing about the details."
The smarter way to stay on top of the multichannel video marketplace. Sign up below.
Contributing editor John Eggerton has been an editor and/or writer on media regulation, legislation and policy for over four decades, including covering the FCC, FTC, Congress, the major media trade associations, and the federal courts. In addition to Multichannel News and Broadcasting + Cable, his work has appeared in Radio World, TV Technology, TV Fax, This Week in Consumer Electronics, Variety and the Encyclopedia Britannica.