Nets Blanket Barr Letter's Conclusion of No Collusion, Insufficient Evidence of Obstruction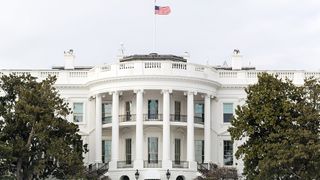 It was another kind of "March madness" Sunday (March 24) as big news broke inside the Beltway.
Broadcast and cable nets, with the exception of CBS, broke into regular programming Sunday afternoon to report the news that, according to Attorney General Bill Barr's letter to Congress, there was no evidence President Donald Trump or his campaign conspired or colluded or coordinated with the Russian government to interfere with the 2016 election, and that there was not enough evidence of the crime of obstruction of Justice by the President, though neither was the President exonerated of that charge.
The President called the investigation "an illegal takedown that failed."
Democrats will hinge on that "no exoneration" conclusion from Barr, based on special counsel Robert Mueller's report, which was concluded Friday (March 22), while Republicans will point to the "no collusion" conclusion.
it was Barr who drew the conclusion from the report's evidence of no obstruction of justice, rather than Mueller, which Democrats could also latch on to to push for more info and even push for impeachment, which has a lower standard than sufficient evidence of indictment.
"After reviewing the Special Counsel's final report on these issues; consulting with Department officials, including the Office of Legal Counsel; and applying the principles of federal prosecution that guide our charging decisions, Deputy Attorney General Rod Rosenstein and I have concluded that the evidence developed during the Special Counsel's investigation is not sufficient to establish that the President committed an obstruction-of-justice offense," Barr said, according to the White House.
Related: Nets Gang Up on Mueller Report Conclusion
In his note, Barr said that the conclusion that there was no obstruction was separate from whether a sitting President can be indicted. Observers had been looking for the answer to whether there was no indictment because the general Justice theory that is that the President can't, or that there was not sufficient evidence whether or not he could be, so Barr said it was the latter.
The White House was definitely declaring victory per the following tweet from the President (who appeared to feel exonerated anyway) and Press Secretary Sarah Sanders:
[embed]https://twitter.com/realDonaldTrump/status/1109918388133023744[/embed][embed]https://twitter.com/PressSec/status/1109911057013919746[/embed]
The President also spoke briefly about it:
"After a long investigation, after so many people have been so badly hurt, after not looking at the other side where a lot of bad things happen, there was no collusion with Russia, no obstruction, the President said. He also said it was a shame the country and "your President" has had to go through this. He said it was an illegal takedown that failed and hopefully somebody is going to be looking at the other side.
"After a long look, after a long investigation, after so many people have been so badly hurt, after not looking at the other side where a lot of bad things happened...it was just announced there was no collusion with Russia," Trump said, calling the collusion allegations, "the most ridiculous thing ever.
"It was complete and total exoneration"
"It's a shame that our country had to go through this. To be honest it's a shame that your president had to go through this."
"This was an illegal takedown that failed and hopefully somebody is going to be looking at their other side"
"It's a complete exoneration"
Vice President Mike Pence included a shot at the media in his reaction:
"After two years of investigation, and reckless accusations by many Democrats and members of the media, the Special Counsel has confirmed what President Trump said along; there was no collusion between the Trump campaign and Russia during the 2016 election... This total vindication of the President of the United States and our campaign should be welcomed by every American who cherishes the truth and the integrity of our elections."
The news nets all morning had been anticipating the letter to Congress would come down Sunday (March 24). CBS was the odd net out as it continued to cover the NCAA Tournament game between North Carolina and Washington as the story was breaking, though it did air a special report during halftime of the game and encouraged viewers to check out its digital platform for more news.
CBS later in the day said it would air an hour, prime time, special, The Mueller Report: A Turning Point, Monday (March 25) at 10-11.
House Judiciary Committee Chairman Jerry Nadler (D-N.Y.) was not happy and signaled in a tweet that Barr would have a date with the committee.
[embed]https://twitter.com/RepJerryNadler/status/1109913142933573632[/embed]
Nadler's opposite number in the Republican-controlled Senate saw it quite differently.
"I have just received topline findings from Attorney General Barr. Good day for the rule of law, "confirmed Senate Judiciary Committee Chairman Lindsey Graham (R-S.C.) in a statement. "Great day for President Trump and his team. No collusion and no obstruction. The cloud hanging over President Trump has been removed by this report.
"Bad day for those hoping the Mueller investigation would take President Trump down.
Rep. Doug Collins (R-Ga.), ranking Member of the House Judiciary Committee, agreed:
"For two years, Special Counsel Mueller conducted his investigation with every available Justice Department resource at his disposal, and today's principal conclusions assure every American there was no collusion between Russia and Donald Trump or his campaign," said Collins."Russia is a bad actor with dark intentions, but there is no evidence that they compromised a presidential nominee. The special counsel's investigation was long, thorough and conclusive: There was no collusion. There is no constitutional crisis. As the report states, 'the evidence does not establish that the President was involved in an underlying crime related to Russian election interference.'
The smarter way to stay on top of the multichannel video marketplace. Sign up below.
Contributing editor John Eggerton has been an editor and/or writer on media regulation, legislation and policy for over four decades, including covering the FCC, FTC, Congress, the major media trade associations, and the federal courts. In addition to Multichannel News and Broadcasting + Cable, his work has appeared in Radio World, TV Technology, TV Fax, This Week in Consumer Electronics, Variety and the Encyclopedia Britannica.