Katzenberg's Mobile Video Service Quibi to Launch in April 2020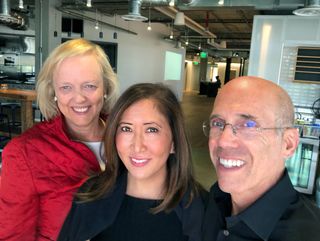 Jeffrey Katzenberg's mobile-first, short-form programming venture Quibi will launch in April 2020, the founder said, with its initial 7,000 individual pieces of content including contributions from Steven Spielberg and Steven Soderbergh.
Those were some of the disclosures made by Katzenberg and Quibi CEO Meg Whitman over the weekend, with the pair appearing at the Producers Guild of America's "Produced By" event on the Warner Bros. lot in Burbank, Calif. (The event was covered by Screen Daily and the major Hollywood trades.)
WarnerMedia, Disney, Sony Pictures and Liberty Global are just a few of the big media and telecom backers of Katezenberg's startup, which has gathered around $1 billion in venture capital so far, according to Crunchbase.
Calling Quibi "the next great growth opportunity for producers, for story tellers, for the entire ecosystem of Hollywood," Katzenberg and Whitman said Quibi plans to spend around $1 billion to acquire its content, and will soon add another $500,000 of investment capital.
Related: Katezenberg, Whitman Reveal Sub Price, Launch Date for New Mobile First Platform
The service, they said, will be launched withe a $470 million first-year marketing budget and will be offered to consumers at $4.99 a month, or $7.99 for an ad-free version.
In addition to the business details, Katzenberg and Whitman also discussed the powerhouse creative talent associated with the venture—this not only includes newly announced partnerships with Spielberg and Soderbergh, but also filmmakers including Jason Blum, Doug Liman and Antoine Fuqua.
Katzenberg said Spielberg wants his Spielberg After Dark to be aimed at folks ages 25-35 and playable only on a smart phone that is able to confirm that it is dark outside before it will let the show play.
A new short-form chapter will be released each weekday. "We look at this not as short form, but long form in chapters," Katzenberg said.
The smarter way to stay on top of the multichannel video marketplace. Sign up below.
Thank you for signing up to Multichannel News. You will receive a verification email shortly.
There was a problem. Please refresh the page and try again.