ITI's Oxman: D.C. Uses Innovative Tech to Slam Industry for Lack of Innovation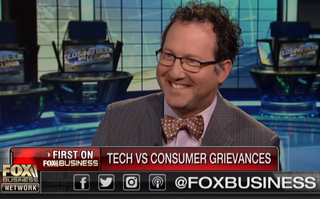 Jason Oxman, president of the Information Technology Industry Council (ITI), took to the electronic pages of Fox to argue that D.C.'s current hits on Big Tech are misplaced, out of step with the rest of the country, and somewhat disingenuous given the platform they use to criticize his industry. 
Related: House Seeks Big Tech Document Drop 
That came in an op ed on the Fox Business web site. 
"[C]ertain elected leaders have launched misguided attacks on tech companies, even arguing that the industry is no longer innovating at the speed it once was," he said. "In a twist of irony, these same anti-tech crusaders share and amplify their opinions through social media postings that communicate with millions with the touch of a button. Decrying technology in one breath and posturing for likes and retweets in another." 
And in a nod to Fox's Middle America base, Oxman wrote: "Meanwhile, outside the Beltway cognoscenti, Americans continue to love and benefit from technology." 
Oxman said he welcomes "leaders" holding "important conversations" about "the good technology can bring," but says that "Suggesting that technology is not innovating as quickly as it once was is not fair to the millions of men and women that are innovating and disrupting industries every day." 
Among those who have suggested Big Tech may be depressing rather than spurring innovation were some members of the Senate Antitrust Subcommittee. That came at a Sept. 24 hearing on whether the government has allowed the largest companies--Facebook, Google, Amazon--to become serial innovation killers by buying up tech start-up competitors before those competitors are large enough to raise red flags with regulators.  
Justice Department antitrust chief Makan Delrahim has pointed out that it is not size that is a problem, but size used anticompetitively, which is what the government is trying to figure out after treating the edge for years as plucky start-ups at the mercy of large ISPs.
The Trump Justice Department is looking into the same issue of "whether and how market-leading online platforms have achieved market power and are engaging in practices that have reduced competition, stifled innovation, or otherwise harmed consumers," the department said in confirming the investigation back in July. The Federal Trade Commission is also eyeing Big Tech.
The smarter way to stay on top of the multichannel video marketplace. Sign up below.
Thank you for signing up to Multichannel News. You will receive a verification email shortly.
There was a problem. Please refresh the page and try again.