House E&C to Hold FCC Oversight Hearing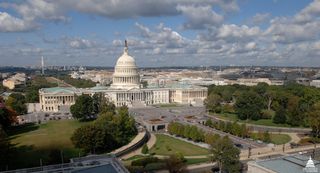 Saying the FCC was considering a number of consequential actions, the House Energy & Commerce Committee's Communications Subcommittee has scheduled an FCC oversight hearing for next month. 
Committee Chairman Frank Pallone (D-N.J.) and Communications Subcommittee Chairman Mike Doyle (D-Pa.) said that the hearing would be Thursday, Dec. 5. The subcommittee's last FCC oversight hearing was May 15. 
"The FCC is considering a number of actions that could have serious consequences for the American people," Pallone and Doyle said in a joint statement. "As the Committee with jurisdiction over the FCC, we must ensure the Commission is fulfilling its mission to protect consumers and act in the public interest. We look forward to welcoming the Commissioners at our hearing on December 5." 
They did not say which actions they were referring to, and a spokesperson for the subcommittee had no comment, but clearly one of them is the decision by FCC Chairman Ajit Pai, revealed to Hill leaders Monday (Nov. 18), to hold a public auction of C-Band spectrum. Legislators are probably generally happy with that choice over a private auction, but may have some questions about the auction framework and timing. 
A spokesperson for House Energy & Commerce Committee Chairman Frank Pallone (D-N.J.) said he supports the public auction in principle. 
The smarter way to stay on top of the multichannel video marketplace. Sign up below.
Thank you for signing up to Multichannel News. You will receive a verification email shortly.
There was a problem. Please refresh the page and try again.