Hoops Legend Earvin 'Magic' Johnson Joins Big3 in Bidding for Fox RSNs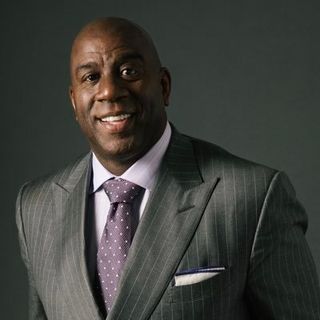 NBA legend Earvin "Magic" Johnson, just days after stepping down as president of the Los Angeles Lakers, has joined Big3 Networks in its bid to win 21 Fox regional sports networks.
Rapper Ice Cube, who along with entrepreneur Jeffrey Kwatinetz formed the three-on-three professional basketball league in 2017, said in a tweet Wednesday that Johnson had joined Big3 in its bid for the networks.
[embed]https://twitter.com/icecube/status/1118571275734044673[/embed]
Johnson stepped down as president of basketball operations for the Lakers earlier this month.
It was unclear as to whether Johnson will provide financial support for Big3's bid -- it already has some backing from private equity player Centerbridge Partners and investment banker Macquarie Group. Earlier, Big3 said it had lined up actor Will Smith, tennis star Serena Williams and rapper Snoop Dogg as content partners if its bid for the Fox RSNs prevails.
Big3 is among a handful of bidders that have pledged upwards of $10 billion for the channels. According to sources and published reports, Liberty Media and Sinclair Broadcast Group have submitted bids as well. Liberty, run by cable legend John Malone, has apparently joined with Major League Baseball in its bid for the channels. Liberty also owns the Atlanta Braves baseball team.
[embed]https://twitter.com/icecube/status/1118195585431916545[/embed]
The networks were acquired by The Walt Disney Co. as part of its $71.3 billion purchase of certain 21st Century Fox programming assets. Disney agreed to divest of the RSNs as a condition of the U.S. Dept. of Justice's approval of the larger deal, which closed on March 20. Disney agreed to sell off the RSNs within 90 days of the Fox closing, meaning it has until June 18 to finalize the sale of the sports networks.
Disney also could spin-off the RSNs into a separate public entity to satisfy the government's conditions, but it would need the DOJ's permission to do so.
Big3 has accused Charter Communications of trying to manipulate the bidding process. Sources confirmed reports that Big3 is scheduled to meet with the Justice department to discuss the matter.
The smarter way to stay on top of the multichannel video marketplace. Sign up below.
Thank you for signing up to Multichannel News. You will receive a verification email shortly.
There was a problem. Please refresh the page and try again.