Flurry of Deals Expected in Wake of AT&T-Time Warner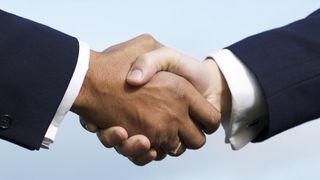 Comcast is expected to touch off a bidding war with the Walt Disney Co. for certain 21 Century Fox assets as early as tomorow, the first shot in what is expected to be a full-on fusillade of deals in the wake of federal approval of AT&T's $108.7 billion purchase of Time Warner Inc.
U.S. District Court Judge Richard Leon issued his decision late Tuesday, rejecting the U.S. Dept. of Justice's efforts to block the AT&T-Time Warner deal, and impose no conditions. According to reports, Judge Leon urged the government not to seek a stay of his decision. AT&T said it expects to close the deal by June 20, the day before the merger agreement was set to expire.
"We are pleased that, after conducting a full and fair trial on the merits, the Court has categorically rejected the government's lawsuit to block our merger with Time Warner," AT&T said in a statement. "We thank the Court for its thorough and timely examination of the evidence, and we compliment our colleagues at the Department of Justice on their dedicated representation of the government. We look forward to closing the merger on or before June 20 so we can begin to give consumers video entertainment that is more affordable, mobile, and innovative."
Related: AT&T-Time Warner Cleared to Merge
Comcast had already made public its intention to go after the Fox assets – which includes cable channels FX, FXX and National Geographic, 20 Century Fox studios and 21 regional sports networks. In May, fearful that Fox and Disney would try to push a deal through before the AT&T-Time Warner decision was rendered, Comcast said it was in the "advanced stages" of making a "superior" all cash bid for the Fox properties.
Related: Comcast Considers All-Cash Offer for Fox Assets
Most analysts believe Comcast will make good on that promise on Wednesday, with some estimates putting the bid at around $78 billion, including assumed debt, which would be about $10 billion sweeter than the Disney offer. Disney also has the right to increase its bid and is expected to do so vigorously, so the climate is right for a bidding war.
As the battle for Fox rages on, other smaller content companies will face increasing pressure to add scale. Discovery, which merged with Scripps Networks Interactive earlier this year, could seek out even more properties to beef up its content coffers. CBS and Viacom, locked in a boardroom battle over recombining those assets, could see a way toward a merger, or seek out additional scale. And standalone programmers like AMC Networks, Hallmark Channel and others could find themselves scrambling for partners. Lionsgate Entertainment, which purchased premium channel Starz in 2016 for $4.4 billion, could be a likely consolidator or a target itself.
Investors seemed to think so too. Lionsgate stock was up 9.5% ($2.28 each) to $26.49 per share in after-hours trading. Discovery stock increased 5% ($1.13) to $25.15 per share; CBS gained 3% ($1.55) to $53.93; Viacom was up 2.5% (71 cents) to $29; and AMC Networks gained 1.4% (84 cents) to $62.48 per share. Comcast investors, anticipating a Fox offer, drove shares down 3.7% ($1.19 each) to $31.20 in after hours trading. Disney shares fell 1.5% ($1.50) to $102.80 per share.
The smarter way to stay on top of the multichannel video marketplace. Sign up below.
Thank you for signing up to Multichannel News. You will receive a verification email shortly.
There was a problem. Please refresh the page and try again.