FCC's Pai Likely Talking Spectrum on Hill Thursday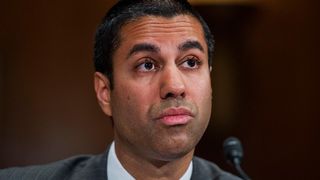 FCC chair Ajit Pai is scheduled to testify at a Senate Appropriations Committee Financial Services and General Government Subcommittee hearing Thursday (Oct. 17). 
The subcommittee is marking up the FY2020 Financial Services & General Government Funding Bill, which includes the FCC's allocation. 
Pai will most likely talk about budgets, but spectrum is also a possibility since FCC auctions have produced billions of revenue for the treasury. 
Look for the issue of whether the FCC should auction the C-band midband spectrum for 5G (with money going to the Treasury) or allow private transactions (with most of that money changing hands in the private sector) to come up during questioning. That is according to a satellite industry source and buttressed by a letter to the subcommittee from Americans for Tax Reform (ATR) president, Grover Norquist. 
Norquist and ATR now endorse the C-Band Alliance proposal of secondary market transactions rather than an FCC auction. While ATR is usually for the government getting as much money for the treasury as it can from other than individual taxpayers, Norquist said the CBA's anticipation of some contribution to the Treasury is sufficient. 
ATR had initially opposed the CBA plan, but commitments to the process would be more transparent, and could potentially clear more spectrum--up to 300 MHz rather than the 200 MHz had initially signaled--helped turn the tide. 
Be it an auction or private deals, Pai has signaled he expects a plan for freeing up some spectrum in that band to be ready for a vote by the end of the year.
The smarter way to stay on top of the multichannel video marketplace. Sign up below.
Thank you for signing up to Multichannel News. You will receive a verification email shortly.
There was a problem. Please refresh the page and try again.