FCC's Carr Is Revved Up for CES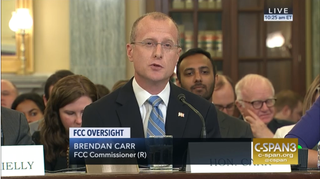 Federal Communications Commissioner Brendan Carr is the newest member of the panel — having just been confirmed to a new five-year term — but he is already something of a technology veteran. The former FCC general counsel and prior to that, lead adviser to Republican commissioner and now chairman Ajit Pai, he was put in charge of its efforts to speed advanced wireless network buildouts.
CES is an important way to keep abreast of which tech changes he needs to keep an eye on, Carr said, and, oh yes, it's fun, too. (This interview was conducted before the government shutdown. At press time it was unclear whether Carr would still be going, as Ajit Pai had scrapped his planned trip. If Carr also does not make the show, it is clear the shutdown will have an opportunity cost in the loss of that window on tech's future.)
In a conversation with Multichannel News, Carr's enthusiasm for all things tech, including artificial intelligence, is clear. And he had some real, intelligent things to say about where smart networks are heading and what the FCC should — and shouldn't — do about it. An edited transcript follows.
MCN: We understand you will be going to CES?
Brendan Carr: Yes. I am looking forward to it. I've gone every year as a commissioner, which is once before, and then as a staffer I would always try to angle to get on that trip because it's a fun time.
MCN: Beyond the fun factor, why is it important for you, as a commissioner, to go to the show?
BC: It is informative for us, particularly in my job now where we are very focused on the transition to 5G, which we really view as a platform that will unleash a new wave of innovation. We're not experts in what that innovation is going to be. A chance to visit a show like CES really helps us get a glimpse of what the entrepreneurs and innovators are able to do, not just with the existing platforms, but what they can do once we get 5G across the finish line.
MCN: For those who were not able to tune into the FCC's AI forum, talk a little about the importance of next-generation networks to AI and the move of intelligence from devices to the networks.
BC: When you think about 5G, there are a number of interesting verticals that come off of it. And what cuts across so many of those verticals, whether it's telehealth or connected cars, is AI.
So, when you marry these new 5G networks with artificial intelligence, that's when you really unlock and enable these other innovations to take place.
For instance, in telehealth, you have the ability to pull data, but without artificial intelligence there is very little you can do with it. Bringing AI and machine learning to bear on this data can really improve outcomes.
So, the way I see it is 5G is the new platform that is going to bring a lot of devices onto the network, a lot of new data, and AI is what's going to enable us to put all of that new data to practical, beneficial use for consumers.
MCN: Talk about the move of that intelligence from devices to the network.
BC: If you think about it this way, right now we have intelligence in two main locations in terms of AI processing power: You've got it in centralized cloud-based data centers and you have it in your smartphones.
Think of those two as the main sources of computing power in the network today. Well, we are increasingly pushing toward a third, which is moving those centralized data centers to the edge and at the same time pulling a lot of intelligence off of the end-user device, the smartphone.
So, you are creating a new edge computing model. For instance, with servers being deployed at macro-tower facility sites, those are becoming essentially mini data centers. Instead of hauling the traffic back to some centralized location, you're crunching and computing the data right there at the edge of the network. That's another thing that 5G is going to enable. It will be interesting. Will our devices, our smartphones, stay as intelligent, or get more intelligent? Or, because of that low latency in edge computing, do we push a lot of that intelligence off the device so that it becomes more of a commodity while the real brains of the operations becomes the network?
That is something I think going to CES can shed some light on. You know: What is that trend? Is it smartphones getting smarter, or is it pushing some of the intelligence off the phone? As you walk around the floor at CES, you can get some insights on that.
MCN: What should the government's role be in regulating new technologies, or should it exercise some regulatory humility?
BC: The best thing we can do in a lot of instances is to get out of the way, but more directly we do have a significant regulatory role to make sure that these networks can be built out. And you can see it through a lot of the actions I have taken on the wireless infrastructure side. There is a regulatory role in updating and modernizing our rules to make sure these new networks can be deployed quickly and ubiquitously so that every community in the country has a fair shot. So, I think we have a big role to play in updating our regs to make sure they support buildout. But, broader than that, I think it is important for us to step back and allow the entrepreneurs and innovators the freedom to do what they are experts at.
MCN: What is your view on regulating edge providers?
BC: I've deferred to the regulatory bodies looking most closely at those issues. The Federal Trade Commission has been holding a series of roundtables on that. My principal focus is on how to lower barriers to entry on the infrastructure side, but then more broadly how we incentivize competition in this space, which I think has a much better track record of incentivizing beneficial conduct than more regulatory approaches.
Contributing editor John Eggerton has been an editor and/or writer on media regulation, legislation and policy for over four decades, including covering the FCC, FTC, Congress, the major media trade associations, and the federal courts. In addition to Multichannel News and Broadcasting + Cable, his work has appeared in Radio World, TV Technology, TV Fax, This Week in Consumer Electronics, Variety and the Encyclopedia Britannica.
The smarter way to stay on top of the multichannel video marketplace. Sign up below.
Thank you for signing up to Multichannel News. You will receive a verification email shortly.
There was a problem. Please refresh the page and try again.