Election 2018: Unleashing The Blue Hammer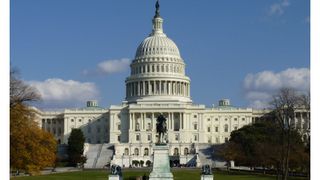 WASHINGTON — The reclamation of the House of Representatives by Democrats means the majority Republican Federal Communications Commission and its chairman, Ajit Pai, can expect to get a lot more scrutiny from the new chairs of the relevant oversight committees in the next Congress.
It was something less than a blue wave — in the ballpark of the average 30-seat switch in the midterms — and not quite a nationwide repudiation of President Donald Trump's political strategies of attacking the media and marginalizing the judiciary and congressional checks on his power. But even a one-seat House majority for the Dems would have meant they now control the agenda.
If Rep. Nancy Pelosi (D-Calif.) retains the speakership, she has said ethics and infrastructure are part of her plan. That could mean a green light for investigations of the FCC on the ethics front, and an attempt, at least, to legislate Democrats' view of broadband buildouts, which is to encourage overbuilding of existing internet service providers that offer insufficient speeds or perhaps insufficiently low prices. But any legislation would have to get by a GOP-controlled Senate with a different view.
Chair on the Hot Seat
On the oversight front, the deregulatory Pai has been a lightning rod for criticism from those House Democrats over topics including changes to broadband subsidies (Lifeline); media ownership and network-neutrality deregulation; and the process by which the 2015 Open Internet order was replaced by the current one. With Republicans in charge, the Democrats had to send angry letters or request Government Accountability Office reports and Inspector General investigations to vent their anger.
Now, with the gavels in their hands, they can hammer the FCC, scheduling more frequent oversight hearings or investigate, say, the Open Internet docket process, newly armed with subpoena power.
Rep. Frank Pallone, ranking member of the powerful House Energy & Commerce Committee, is in line to be the new chairman. The New Jersey Democrat has leveled plenty of criticism at Pai, as has likely incoming Communications Subcommittee chairman Mike Doyle (D-Pa.), who was a leader in the House attempt to reverse the net neutrality rule deregulation.
Pallone, for instance, asked FCC Inspector General David Hunt to investigate what he said was Pai's failure to disclose a conversation he had with White House general counsel Don McGahn about the Sinclair Broadcast Group-Tribune Media merger, suggesting it could have been a "coverup."
Pallone also has bones to pick with the FCC's loosening of media ownership regulations, its Lifeline subsidy reforms and the proposed revamping of kids' TV rules, the last of which he has called a "bizarre" proposal. All those efforts could face increased scrutiny with House Democrats having the power to investigate, plus an extra arrow in their quiver, according to one Hill aide speaking not for attribution.
While saying it was a technical possibility rather than a plan of action, that aide said that currently personal phone or email communications of the FCC chair have to be forwarded to a government account. While the FCC's inspector general has already investigated Pai's handling of the failed Sinclair-Tribune= merger and found nothing untoward, the IG said he did not have authority to access personal communications as part of that investigation, per the Hill aide. At least technically, House Democrats now have the authority to go after those communications as well, so that might be "in the realm of possibility" in investigations into possible coordination with the White House over the Sinclair deal or perhaps net neutrality. Pai has said there was no coordination on either.
One person's oversight zeal is another's reasonable exercise of a power many Democrats saw as underutilized when Republicans were overseeing the agency.
"Democratic chairs of the Energy and Commerce Committee and relevant subcommittees likely will use their subpoena powers and oversight functions to hear from chairman Pai," said said one Democratic lobbyist, "not to exact some kind of vindictive revenge, but rather to pursue policy outcomes that matter to voters: fair competition, open communications platforms, quality service, and reasonable pricing."
The lobbyist also agreed Democrats could get at more of the chairman's communications if they choose to using their full subpoena power, the same power that could get them access to Trump's tax returns.
Judiciary's likely new chair, Rep. Jerry Nadler (D-N.Y.), has indicated the panel could launch a new investigation of Supreme Court Justice Brett Kavanaugh. "We would have to investigate any credible allegations certainly of perjury and other things that haven't properly been looked into before," Nadler told ABC during the contentious Kavanaugh hearings.
In terms of snatching the deregulatory weed whacker from the FCC Republican majority, it will take more than a midterm reclamation of the House to put much of a dent in that effort, which has ISPs celebrating the repeal of net neutrality rules and a remake of cable rate regulations, and broadcasters achieving some media-ownership deregulation victories, with more likely to come on the kids' TV front.
Likely Result: Gridlock
House Democrats may try and legislate net neutrality rules, but there would still be a Senate filibuster and the president's veto pen to overcome. Legislative gridlock is likely.
"Not until the Democrats can put together a string of U.S. House and Senate election victories and begin to see the emergence of more measurable margins in the party identification of Americans will they be able to credibly cite a meaningful change in the underlying direction of American politics," veteran Democratic strategist Vic Fingerhut said in a blog post.
One potential benefit for journalists in the House flip is that the president will have an opposition house of Congress to rail against. If his media attacks are a strategy to whip up the base, the House may divert some of that strategic ire.
The smarter way to stay on top of the multichannel video marketplace. Sign up below.
Thank you for signing up to Multichannel News. You will receive a verification email shortly.
There was a problem. Please refresh the page and try again.