Disney Encouraged By Streaming Numbers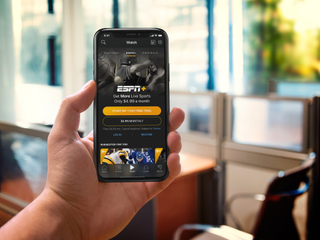 The Walt Disney Co., said subscribers to its streaming service ESPN+ have more than doubled to 2 million, encouraging news as it nears the launch of its ambitious direct-to-consumer entertainment service Disney + later this year.
ESPN +, which launched in April, added those subscribers in about five months, fueled primarily by its recent deal with combat sports giant UFC. The first fight of that deal -- December's UFC Fight Night -- drew nearly 600,000 fans to sign up for the ESPN + service.
On a conference call to discuss fiscal first quarter results, Disney chairman and CEO Bob Iger said the ESPN+ performance is encouraging and shows the marketing prowess of its linear ESPN service. It is also testament that the underlying technology for the steaming product -- basically Disney's BAMTech unit -- is robust enough to meet the challenges of a popular streaming service. Iger said, at times before the UFC fight BAMTech was completing "just under" 15,000 transactions per minute.
"The stability of the platform is critical at times like that," Iger said, adding that the ESPN brand also helped drive the streaming product's success. "ESPN's primary platforms are fantastic marketing tools. You can obviously expect that we will use Disney's strong marketing platforms for the Disney+ service."
Disney will offer more detailed information on its direct-to-consumer strategy at a planned Investor Day in April.
For the quarter, revenue was flat at $15.3 billion and segment income was down about 8% to $3.65 billion. It its Media Networks unit, revenue was up 7% to $5.9 billion and segment operating income rose another 7% to $1.3 billion. Cable network revenue was up 4% -- fueled by a 3% increase in ad sales at ESPN -- while broadcast revenue increased 12% in the period. Cable network operating income fell 6% in the quarter while it increased 40% at its broadcasting segment.

Studio entertainment took the biggest hit -- revenue was down 27% to $1.8 billion and segment operating income fell 63% to $309 million, due to poor theatrical comps -- the prior year saw the release of Star Wars: The Last Jedi and Thor: Ragnarok while the most recent quarter had Mary Poppins Returns and The Nutcracker and the Four Realms.
The smarter way to stay on top of the multichannel video marketplace. Sign up below.