MobiTV Lands Consolidated Communications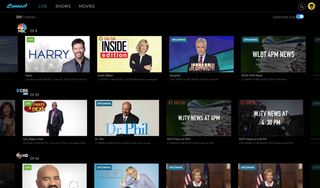 NEW ORLEANS - Mattoon, Illinois-based Consolidated Communications has become the latest cable operator to sign onto MobiTV's full IP video solution, MobiTV Connect.
The IPTV platform will service as the backbone of Consoidated's CCiTV-branded video service, delivering content from nearly 200 local broadcast and national cable channels. Network brands in the fold include A+E, Crown Media Family, Disney and ESPN Media, FOX, HBO, Turner and Viacom.
The new service initially is available to subscribers in southern Maine with plans to expand service later this year.
The announcement was made from the Cable-Tec Expo event in New Orleans.
Related: MobiTV Adds $50M Funding Round
After launching its MobiTV Connect IPTV product nearly two years ago, MobiTV has around 90 U.S. pay TV partners, about half of which have fully deployed its end-to-end IP-based solution. Windstream and Fidelity Communications are its biggest clients to date.
MobiTV Connect is SaaS-based platform that allows for real-time enablement of new technologies, such as 4K, cloud DVR and voice control. The app-based system is designed to leverage off-the-shelf streaming hardware, like Roku and Amazon Fire TV, dispensing with expensive set-top rollouts.
"Partnering with MOBITV allows us to deliver a cost-effective next-generation TV service and enhanced user experience," said Rob Koester, VP of consumer product management at Consolidated Communications, in a statement. "Consolidated also benefits from MobiTV's IP delivery, which reduces the capital expense associated with additional hardware in the home and the ability to transition to the service without a major rip-and-replace installation."
Added Charlie Nooney, CEO and chairman of MobiTV. "The customizable MobiTV Connect platform, combined with the fiber-optic network and customer service from Consolidated Communications, makes for a powerful app-based TV solution that prioritizes the user experience."
The smarter way to stay on top of the multichannel video marketplace. Sign up below.
Thank you for signing up to Multichannel News. You will receive a verification email shortly.
There was a problem. Please refresh the page and try again.