MobiTV Adds $50M Funding Round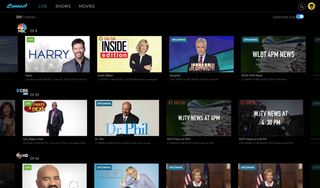 Emeryville, Calif.-based pay TV tech vendor MobiTV has raised another $50 million.
The money comes from longtime lead investor Oak Investment Partners, with Ally Financial and Cedar Grove Partners also contributing. Founded in 2001, MobiTV has raised $213.8 million to date.
After launching its MobiTV Connect IPTV product about 18 months ago, MobiTV has around 90 U.S. pay TV partners, about half of which have fully deployed its end-to-end IP-based solution. Windstream and Fidelity Communications are its biggest clients to date.
According to Charlie Nooney, chairman and CEO of the technology company, the funding will be used to bolster MobiTV's "leadership" position in an increasingly competitive market for turnkey, internet-based TV tech products for telecom companies stepping away from the traditional constraints of QAM video.
For example, Centennial, Colo.-based Evolution Digital announced last week that Missouri operator Vast Broadband will roll out the eVue-TV IP content delivery platform and eMerge user interface by the end of the year.
"We clearly see the competition coming," Nooney said. "We want to keep our leadership position in this space."
MobiTV, he added, wants to bolster its adverting, marketing and data collection wherewithal here in the U.S. It also wants to expand into markets like Europe.
"Operators are at an inflection point," Nooney said, explaining that competition from OTT services and innovations including 4K are forcing MSOs into tough decisions on whether to double down on TV or bail on video altogether.
"They worry that if they lose a video customer, they'll lose a broadband customer, as well," he noted.
MobiTV's multi-tenant solution can be deployed through either a managed service or in-network offering. MobiTV Connect offers more than 350 popular networks, including A+E Networks, AMC Networks, Crown Media Family Networks, C-SPAN Networks, Disney and ESPN Media Networks, and Viacom.
MobiTV uses a hosted methodology, transporting national programming feeds from its centralized platform in Sacramento to its MVPD partners. MobiTV also ingests local broadcast feeds and distributes them for its cable and telco service provider partners.
"We believe in MobiTV's superior consumer experience and know that being the only true TVaaS commercially deployed solution in North America has differentiated their positioning in the marketplace," said Bandel Carano, managing partner of Oak Investment Partners, in a statement. "They have reinvented pay TV by providing operators a platform that allows consumers to use their streaming devices or smart TV, while eliminating the requirement of a set-top box."
The smarter way to stay on top of the multichannel video marketplace. Sign up below.
Thank you for signing up to Multichannel News. You will receive a verification email shortly.
There was a problem. Please refresh the page and try again.