Comcast Integrates Tubi Into X1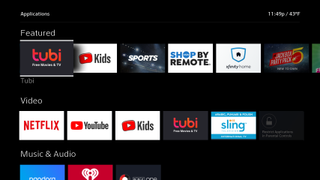 Ad-supported video on demand platform Tubi has become the latest video streaming service to be integrated into Comcast's X1 video platform.
Tubi offers more than 8,500 movie titles from more than 200 content partners, including Lionsgatge, MGM, Paramount and Starz.
X1 users can now launch the Tube app directly on X1 and search and access the entire AVOD platform's library by saying "Tubi" into their X1 Voice Remote. They can also search for the app in the X1 apps section. Soon, Comcast said, X1 customers will also be able to browse and search the entire Tubi programming library—spanning genres including anime, classics, comedy, drama, family, horror, niche titles and more—within Xfinity On Demand.
Related: Tegna Makes Strategic Investment in Tubi TV
Starting with the integration of Netflix and YouTube early last year, Tubi is only the latest OTT platform to become integrated into X1 to the level of voice search, as the cable operator seeks to become what it says is the "aggregator of aggregators."
Speaking at NAB New York last month, Chris Reynolds, executive director of technology and product for Comcast Cable, said the operator expects to have around 30 streaming apps integrated into its pay TV platform by the end of the year, per Fierce Video. Longer term, Comcast would like to have around 100 OTT apps available to X1 Voice Remote users and be on par with Roku in terms of consumer choice.
"This partnership with Comcast enables us to reach millions of TV and movie fans looking to easily access thousands of premium titles directly on the TV. We think X1 customers are going to truly enjoy this new service," said Farhad Massoudi, Founder and CEO of Tubi, in a statement.
The smarter way to stay on top of the multichannel video marketplace. Sign up below.
Thank you for signing up to Multichannel News. You will receive a verification email shortly.
There was a problem. Please refresh the page and try again.