Cinedigm's Erick Opeka: 'The FAST Space Is a Gladiator Pit Where Only the Strong Will Survive'
The business of free, ad-supported linear TV has changed so quickly during the pandemic that what worked 18 months ago is already out of date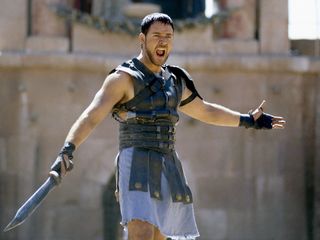 (Image credit: Universal Pictures)
The business of free, ad-supported linear TV has changed so quickly during the pandemic that what worked 18 months ago is already out of date. The great irony, however, is the road to future success may lay in copying techniques developed in the decades-old playbook for broadcasting success.
That's one lesson from a high-profile panel at last week's OTT.X Fall Summit in Los Angeles that I moderated. Top streaming executives from Cinedigm, Crackle, Redbox, Xumo and Jukin Media agreed that FAST strategies, interfaces and technologies that were adequate, or even forward-looking when the pandemic took off now seem outmoded and inadequate.
"The FAST space is a gladiator pit where only the strong will survive," said Erick Opeka, Cinedigm's chief strategy officer.
"What would pass muster for a digital linear or FAST channel a year ago does not today," said Chris Yates, GM of on demand for Redbox Entertainment, which operates the fledgling Redbox Free Live TV linear streaming platform, as well as Redbox Free On Demand. "What's really, really sophisticated now or six months ago won't be six months from now. We can see the level of sophistication you need around your tech stack."
And it's not just improving technology or proliferating competition driving the business, though that's a challenge too. FAST services create a "TV" experience similar to what most audiences have known from decades of watching broadcast and basic cable. The problem is streaming is far less forgiving to new services trying to find their footing.
"In cable, you got five years to find an audience," Opeka said. "The cable companies (were) taking 5% of (ad) inventory and were paying you for the channel. Today, there's no carriage fees—sometimes they're taking up to 50% of the ad revenue. And if your channel doesn't perform, you don't have five years, you have six months, or you're out. So, you really have to figure it out fast. There's no time to ease into it."
Cinedigm actually turned to a group of broadcast veterans to help evolve its many streaming services, Opeka said.
"We hired up a team of people that work in broadcast and set them loose into the FAST universe," Opeka said. "And let's just say they were ripping their hair out for about a quarter going, 'What the heck are you guys thinking and doing?' And then they started putting that same discipline that you see in broadcast into the mix. The one thing that we have learned is the tried-and-true techniques for programming that worked on broadcast are working in FAST linear: It's stacking, stripping, lead-ins, promos. When we started doing that, we saw our audience jump 40 percent in 90 days."
FAST services may feel like traditional TV to audiences, but provide a very different experience from subscription VOD. But sometimes, that's just what viewers want, said Xumo CEO Colin Petrie-Norris.
"I don't want to spend 45 minutes poking around in the Netflix UI. I just want to go into something nice to watch," Petrie-Norris said. "The companies that do well recognize that mode that the audience is in: 'Just give me something really good. Tell me a story for 35 minutes, 55 minutes.' And that's where I think those traditional techniques work really, really well. And you get a lot of great data."
Jukin Media, which recently was bought by Trusted Media Brands, started 11 years ago licensing viral video clips across social media, then turning them into programming. These days, founder and CEO Jon Skogmo said, the company still mines user-generated clips for its programming, but then wraps the best clips in more traditional-looking shows, structures, and services.
"We're certainly doing everything everyone here is talking about," Skogmo said. "First, we test (the clips) on social, and we get really great feedback, and then it's 'How can we expand that into a 22- [minute format]? How do we expand that into a 44 format, into licensing content?'"
The payoff in engagement can be huge.
"Our average watch time on socials is about 15 seconds," Skogmo said. "Our average watch time on streaming is 60 minutes."
Audience expectations are already shifting for the ad experience too, meaning services need to ensure "the ads play, that they're relevant, that they don't fail, that they don't buffer, things you might take for granted," Yates said. "This industry is moving so fast that in a year from now, I couldn't even imagine exactly what (the) issues will be, but you can already see that … the gatekeepers at both the OEM level and the service-provider level, like us, are requiring it of partners to come on board now. And you just got to keep seeing that bar rising."
Advertisers are still working from a slightly older paradigm, chasing demographics across all kinds of programming, rather than targeting particular outlets or exclusive shows on a service.
"I don't see right now the advertisers' interest specifically in the exclusives in a great degree," said Petrie-Norris. "I think that's coming. [For now], I think advertisers, they just love the space. These are big-screen TVs in the living room with no browser tabs open. Your ad shows up and people notice it. It's all digital, you can track results. So it's like buying old, linear TV, but with all this magic."
All the companies are grappling with "rescue ads," make-goods when a spot fails to run for "sometimes very good and sensible reasons," Yates said. "That's an experience the industry needs to solve. But that's also an example of, a year ago, no one was really bothered by that."
The FAST channels also play an important role in the broader streaming ecosystem each company runs, serving as a "barker channel" connecting viewers to higher-value AVOD and SVOD corporate siblings, or even transactional and Premium VOD sales and rentals, said Crackle Plus President Philippe Guelton.
"There is an increase in incremental opportunity to then send them to the VOD offering," Guelton said."It's a great marketing platform, because, frankly, it doesn't cost anything for people to discover content in the lean-back experience, and then say, 'Wait, I could watch the whole series, or I could watch more of that just by clicking right there and downloading the full experience."
For all the change then, the most vital bit of intelligence from a panel of smart veteran executives might just be this: what's old may be new again, or at least far more relevant than anyone anticipated a couple of years ago.
"I think one of the biggest mistakes that we always do in this industry is look to the past for what's going to come to the future,' Opeka said. "But the same mistake can be said for forgetting the past and thinking,'That was broadcast TV, this is FAST.' It's a behavior that users are doing. They're doing the same behavior."
David Bloom of Words & Deeds Media is a Santa Monica, Calif.-based writer, podcaster, and consultant focused on the transformative collision of technology, media and entertainment. Bloom is a senior contributor to numerous publications, and producer/host of the Bloom in Tech podcast. He has taught digital media at USC School of Cinematic Arts, and guest lectures regularly at numerous other universities. Bloom formerly worked for Variety, Deadline (opens in new tab), Red Herring, and the Los Angeles Daily News, among other publications; was VP of corporate communications at MGM; and was associate dean and chief communications officer at the USC Marshall School of Business. Bloom graduated with honors from the University of Missouri School of Journalism.
The smarter way to stay on top of the streaming and OTT industry. Sign up below.
Thank you for signing up to Next TV. You will receive a verification email shortly.
There was a problem. Please refresh the page and try again.