Cheddar Launches on YouTube TV, Debuts New Channel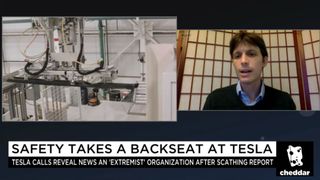 Cheddar, the business and tech news service focused on affluent millennials, has landed carriage on YouTube TV and launched a new network, Cheddar Big News.
Available first on YouTube TV, the OTT TV service launched last year, Cheddar Big News is focused on headlines and top stories in the U.S. and internationally. Cheddar Big News will be coming to two other virtual MVPD services, Sling TV and Philo, in Q2 2018.
RELATED: Philo Unleashes Entertainment-Focused OTT TV Service
Cheddar said the Coca-Cola Company is the first integrated sponsor for Cheddar Big News, which will emphasize "nothing-but-the-facts" reporting, and span areas such as politics, entertainment, travel, food, health, science, sports and weather, delivered live from Cheddar studios in New York and Los Angeles.
Content partners for Cheddar Big News include AccuWeather and three tied to sports coverage -- Stadium, VSiN and FanSided.
The launch of the new network arrives on the heels of Cheddar's $22 million Series D round that will be used in part to fund domestic and international expansion.
"We cover the big political stories of the day but don't torture viewers with circular panels of supposed 'expert political analysts'," Jon Steinberg, founder and CEO of Cheddar, said in a statement. "We move on to 'moose on the loose', human interest stories, weather, science, sports, and the topics of the day. It's apolitical. It's the cable news product that young people want. We now have the full suite news offering with a news network and a business news network."
Cheddar's distribution on YouTube TV will include both the Cheddar and Cheddar Big News live feeds and VOD content. That also complements Cheddar's YouTube channel, which focuses on original news, mini-doc videos and highlights from network broadcasts.
The agreement adds another distribution outlet for Cheddar, which is also offered on
Sling TV, Layer3 TV (now part of T-Mobile), Comcast (for its X1 platform), Amazon, Facebook, Spotify, Twitter, and Twitch, among others.
The smarter way to stay on top of the multichannel video marketplace. Sign up below.