Cable Stocks Ride Market Upswing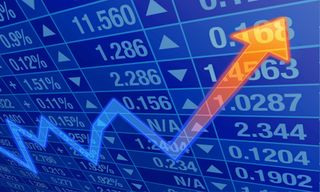 A day after shedding 600 points and after a week of heavy declines, the Dow Jones Industrial Average began clawing back on Friday, with cable stocks rising in the 2% to 7% range.
A favorable jobs report -- the U.S. added 312,000 new jobs in December-- helped lift the market and temper fears about the economy after a string of declines, driving the index to close at 23,433.16, up 746.9 points. The gains come after a 600-point drop Thursday, spurred by Apple reducing its quarterly revenue targets because of sluggish IPhone sales in China.
The Dow, down 8.7% in December -- its worst showing for that month since 1931 -- has had a better go of it in the first week of the New Year, rising 0.5%. In addition to the strong jobs data, Federal Reserve chairman Jerome Powell said the central bank would be patient regarding raising interest rates, which gave added hope to investors.
For media stocks, shares that were battered the most in 2018 seemed to fare the best on Friday. Dish Network, which lost 48% of its value in 2018, but was upgraded to "neutral" Thursday by influential analyst Craig Moffett of MoffettNathanson, had the biggest gain -- up 7.1% to $28.29 per share. Other stocks that slowed in 2018 -- Charter Communications, Liberty Global, and Altice USA -- fared almost as well. Liberty Global, which shed 40% of its value in 2018 was up 6.4% to $22.76 per share and Charter, down 15.2% in 2018 increased 5.4% to $302.88 per share. Altice USA (down 22.2% in 2018) rose 1.7% to $17.41 and Comcast, down 15% in 2018, gained 3.4% on Friday, while Viacom (down 16.6% in 2018) was up nearly 2%.
Rounding out the sector, The Walt Disney Co. closed at $109.61 per share, up 3.1%; CBS finished at $47.71 (up 2.3); Discovery was priced at $26.16 (up 2%) and 21st Century Fox closed at $48.09 each, up 1.3%.
Technology stocks, battered over the past few weeks, also had a much better showing.
Apple, which lost 10% of its value Thursday, gained some of that back Friday, closing at $148.26 each, up 4.3%. Netflix rose 9.6% to $297.34; Amazon was up 5% to $1,575.20; Google rose 5.3% to $1,069.80 and Facebook was up 4.7% to $137.96 per share.
The smarter way to stay on top of the multichannel video marketplace. Sign up below.